WFC Launches 2018 Mobile App for Event Attendees
Share:
Posted Nov 1, 2018
ORANGE BEACH, Ala. — The World Food Championships (WFC), presented by Walmart, is days away from its main event in Orange Beach, Alabama. As part of its many upgrades and enhancements for 2018, the largest Food Sport event has launched a special WFC mobile App dedicated to providing information to competitors and foodies throughout the entire event with ease.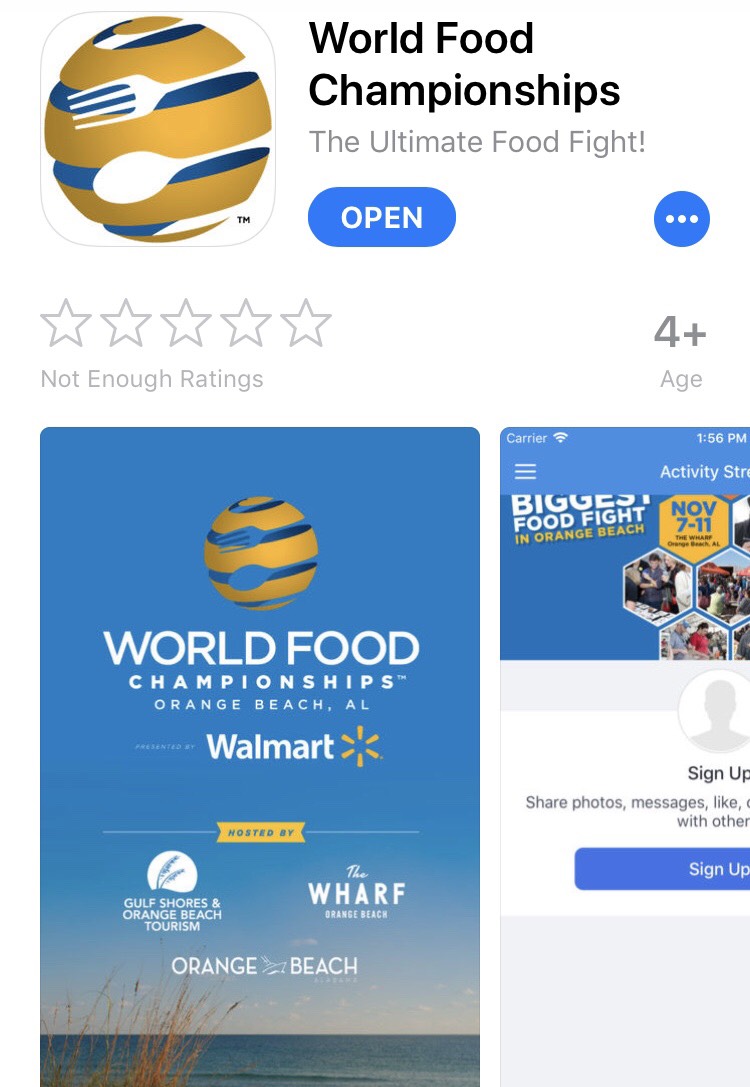 With more than five days of competition with ten categories and numerous ancillary challenges, accompanied by almost 30food demos and special food-fun events, the App will help make it easier for attendees and teams to navigate their way through daily deadlines and activities while on-site. WFC's brand new tool gives every attendee the ability to map out a perfect food and fun-filled adventure while at the world's largest food fight.
"We are very excited to provide this additional tool for insight and convenience," said Mike McCloud, President and CEO of WFC. "This App will be a great way for Food Champs and foodies to make sure they don't miss out on any of the fun elements going on throughout the week."
The easy-to-use event App is a one-stop-shop for all Food Sport wants and needs. Through the App, consumers are able to check out the event schedule, view WFC's interactive map and learn about past Food Champs who will be returning to the Ultimate Food Fight. Additionally, the WFC App features push notifications that help ensure you don't miss any of the upcoming competitions or special events taking place throughout the championships.
The WFC App is FREE to download and is available for both Apple and Android users. To download, click either the Apple/iOS or Android/Google Play words below.
The 7th Annual WFC, presented by Walmart, will be held Nov. 7-11 at The Wharf in Orange Beach, Alabama. To learn more about the event, visit www.worldfoodchampionships.com/tickets. In the meantime, stay up to date on all WFC news and developments by following us on Twitter (@WorldFoodChamp), and Facebook and Instagram (@WorldFoodChampionships).
« Back to News