WFC Welcomes Weiman as Food Sport's All-Star Clean Team
Share:
Posted Oct 29, 2018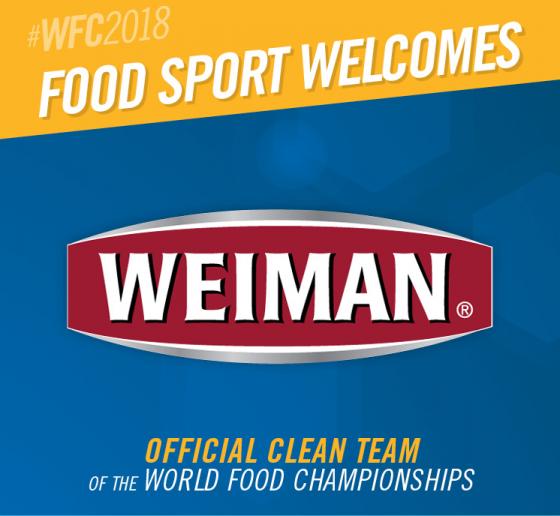 ORANGE BEACH, Ala.,⸺ Nearly 1,500 cooks will meet at The Wharf in Orange Beach, Alabama this November for the culinary battle of their lives — and a shot at more than $350,000 in cash and prizes, the biggest payout in Food Sport history. To help make sure the food fighting action doesn't get out of hand, the World Food Championships has brought on Weiman as Food Sport's official clean team.
Weiman focuses on keeping home surfaces looking their best. For this reason, the Illinois-based company developed cleaning products that go above and beyond simply cleaning to beautify and protect delicate, difficult to care for surfaces. From stainless steel to granite, each of the products is formulated specifically for one surface and one surface only; allowing you to achieve the perfect results that your home deserves. In addition to the Weiman brand, the clean team will utilize some of the company's other products from Goo Gone and Micro-Scientific to keep the competition kitchen's in tip-top shape.
"We are thrilled to have Weiman come abroad this year to help with the turn-around between competitions in Kitchen Arena," said Mike McCloud, President and CEO of WFC. "The world's Ultimate Food Fight takes all hands deck to keep things running smoothly throughout the week. We are thankful to have an expert clean team using superb products to make the cleanup process run smoothly at WFC. With Weiman's help, our Food Champs can focus on making a sweep for the cash!"
To learn more about Weiman and its great line of products, visit www.weiman.com.
The 7th Annual WFC, presented by Walmart, will be held Nov. 7-11 at The Wharf in Orange Beach, Alabama. In the meantime, stay up to date on all WFC news and developments by following us on Twitter (@WorldFoodChamp), and Facebook and Instagram (@WorldFoodChampionships).
« Back to News