Operation BBQ Relief Brings Blue Skies and Barbecue to WFC
Share:
Posted Oct 5, 2018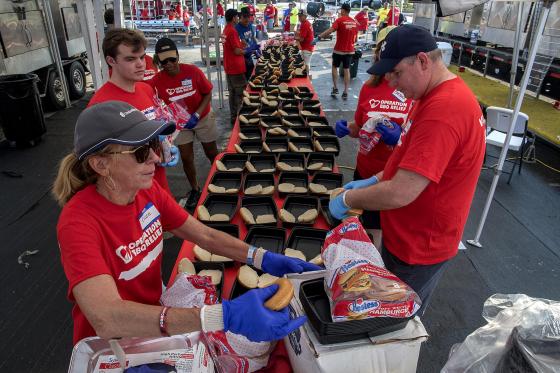 The World Food Championships announced that it is partnering with Operation BBQ Relief (OBR) for the third year in a row to help produce two amazing events for the Food Sport community.
OBR is a nonprofit 501c3 disaster organization that strives to provide compassion and offer hope and friendship to those whose lives have been affected by disasters across the nation. OBR leverages their members' expertise in cooking and catering barbecue meals with their ability to quickly mobilize teams into any area where disaster disrupts and tears apart the lives of Americans.
To raise awareness and support for its cause, OBR will be the primary host of the WFC Welcome Reception on Nov. 7th in Orange Beach, Alabama. As it has been for six years in a row, this is the first opportunity for cooks to meet their fellow competitors, visit with WFC sponsors and celebrate together before any awards are announced at the world's largest Food Sport event.
In addition to the Welcome Reception, OBR will be hosting a fundraising event on Nov. 9th from 5:00 pm - 9:00 pm. The Blue Sky Bounty fundraiser will be an evening of grit and grace, promising a night of amazing food, great friends and excitement as funds are raised for disaster relief missions. "Blue Skies" refers to the times OBR is NOT called upon for disaster relief and are the moments to thank supporters, volunteers and sponsors. The evening will showcase tasting stations prepared by some of our favorite chefs and local celebrities, live entertainment and silent auction.
"We are so excited and proud to have Operation BBQ Relief as the primary host and beneficiary of our Championship's Welcome Reception," said Mike McCloud, President and CEO of WFC. "We love the work OBR does and are thrilled to support them and have their events play a key role in this year's event. Even though our Welcome Reception is a free event for our competitors and judges, we will be requesting donations to help OBR expand its reach and continue its mission."
Since founded in May 2011, OBR has been responding to natural disasters and other situations to help feed displaced residents and emergency personnel. Recently, the OBR team spent time on the road helping individuals that were affected by hurricane Florence, averaging 20,245 meals served and 153 volunteers a day. While OBR was on its 21-day deployment (OBR's longest-running deployment to date) in Wilmington, North Carolina, their team served its 2 millionth meal. To learn more about OBR and its disaster relief efforts, please visit www.operationbbqrelief.org. To purchase your ticket to the Blue Sky Bounty event, click here.
The 7th Annual WFC, presented by Walmart, will be held Nov 7-11 at The Wharf in Orange Beach, Alabama. Stay tuned for more Food Sport developments at WFC by following our social media. For all WFC updates, follow World Food Championships on Twitter (@WorldFoodChamp), and Facebook and Instagram (@WorldFoodChampionships).
*Photo credit
:
Jeremy Lock and Mercury One
« Back to News