Former NFL Champion Steps Into Food Sport in a "Souper" Way
Share:
Posted Sep 16, 2018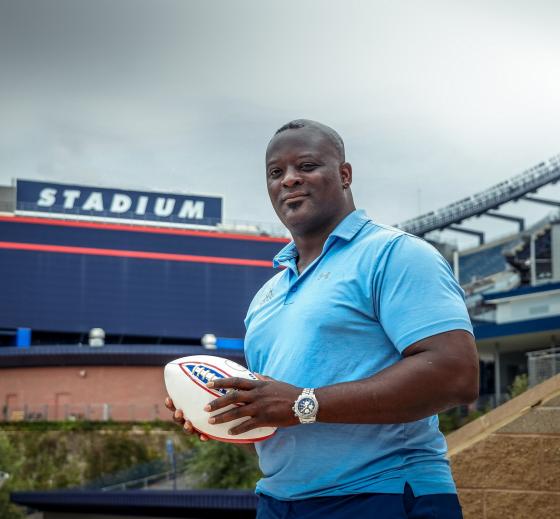 The World Food Championships (WFC) announced today that former New England Patriot Defensive End Jarvis Green and his company, Oceans 97, has signed on as an Official Food Sport partner for the 2018 competition in Orange Beach, Alabama. As a part of the new partnership, Oceans 97 will be joining Natural Tableware to co-sponsor WFC's first Soup-or-Bowl Sunday event, which will be held on November 11 during the five-day food tournament. In addition to providing Soup-or-Bowl competitors with Oceans 97 shrimp to use in their dishes, Green will also help to determine this year's World Seafood Champion as a Top Ten judge.
"We consider WFC competitors as top-level athletes in their own right, as they have to practice extensively and then battle it out in kitchen arena against a clock and other champions," said Mike McCloud, President/CEO of WFC. "That's why traditional sporting legends like Green are always a great addition to our event, as they can bring the sports mentality to all things food and help us celebrate culinary achievements."
Since retiring from professional sports, Green shifted his competitive spirit into entrepreneurial pursuits. The former Patriot and two-time Super Bowl Champ has always enjoyed bringing family and friends together over a meal. After stepping off the football field, Green took his champion attitude and poured it into his love for seafood cuisine, beginning Oceans 97 in 2015.
Oceans 97, Inc. is a National Minority Supply Chain Company, and its shrimp are wild caught from the Gulf of Mexico by U.S. gulf coast fishermen. Green is devoted to sourcing local produce from local fishermen in North America. Oceans 97's shrimp and shrimp products reflect Green's commitment to locally sourced and natural products. His passion and drive have made him a leader in educating people about the health benefits of a diet rich in fresh and natural ingredients.
"I've heard a lot about Food Sport and the awesome competitors in this arena," commented Green. "I can't wait to huddle with the many champions at WFC and see firsthand how creative and passionate they are about the culinary industry."
To learn more about Jarvis Green's Oceans 97, visit http://oceans97.com/.
Click here to grab your tickets to Soup-Or-Bowl Sunday for a chance to meet Jarvis in person while sampling championship-worthy dishes from WFC Food Champs.
WFC's Main Event is scheduled for Nov 7 - 11 at the Wharf in Orange Beach, Alabama. Stay tuned for more partner announcements about WFC 2018. To keep up with all WFC news, follow World Food Championships on Twitter (@WorldFoodChamp), and Facebook or Instagram (@WorldFoodChampionships)
« Back to News