Competitors Will Be "Happy" About WFC's New Food Sport Partner
Share:
Posted Sep 14, 2018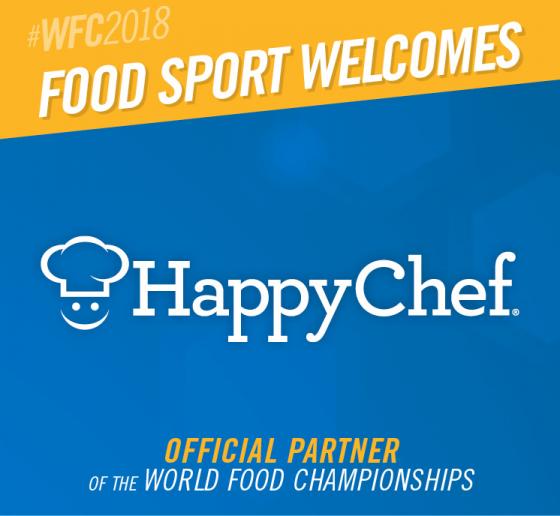 The World Food Championships (WFC) announced today that Happy Chef has signed on as an Official Partner to help enhance the Food Sport experience for competitors at the 2018 competition in Orange Beach, Alabama. Thanks to the new partner, Food Champs will now get to relax in the Happy Chef Competitor Zone, a special competitor-only area where each flight of cooks will get to hang out right before entering Kitchen Arena, where they will battle it out for over $350,000 in cash and prize.
"We are thrilled that Happy Chef has joined us to create a space where competitors can go to get there head in the game before their cook times begin," said Mike McCloud, President/CEO of WFC. "This is where all of the cooks can gather and then enter the 'food sport' arena at the same time, almost like football players taking the field at the beginning of a game."
The Happy Chef Competitor Zone will feature phone charging stations, light refreshments and will be a relaxing place to sit down and rest in between kitchen battles. Happy Chef will also be providing a free coat or apron to every WFC team captain before the main event in November. Competitors will receive instructions on how to redeem their FREE apparel in the coming weeks. In the meantime, you can shop HappyChef.com for apparel or gear to outfit your staff and save 10% on your entire order including embroidery when you enter the code: WFCTEAM.
The 7th Annual WFC, presented by Walmart, will be held Nov 7-11 at The Wharf in Orange Beach, Alabama. Stay tuned for more Food Sport developments at WFC by following our social media. For all WFC updates, follow World Food Championships on Twitter (@WorldFoodChamp), and Facebook and Instagram (@WorldFoodChampionships).
« Back to News