Need A Reason To Attend World's Largest Food Fight? How About a Baker's Dozen!
Share:
Posted Sep 10, 2018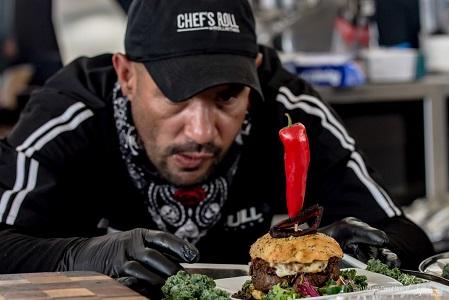 The World Food Championships (WFC), which will be held Nov 7 - 11 at The Wharf in Orange Beach, Alabama, is preparing for the largest cooking competition in history as chefs and cooks from 41 states and 14 countries are now setting their sights on more than $350,000 in cash and prizes. Aside from the cooking frenzy, though, there are a ton of family-friendly activities planned for foodies of all ages. Whether you're a southern-fried foodie who loves barbeque and bacon, or a parent looking for the most outrageous food flavors in the Gulf region, this multi-day, live-fire culinary event has something for everyone.
Here are just a few of the best ways (ok, a Baker's Dozen) to take a bite out of the Ultimate Food Fight:
13. Play With Our Food
So Mom says you can't play with your food. That's ok. How about playing with someone ELSE's food!? Join WFC as it kicks off another year of the World Food Games, where the entire family can join in on the fun! Some of the highlights include Speed Cup Stacking, Team Egg Tossing, Orange Relay Races, and Corn Shucking (with mitts)!
12. Kick Up Your Feet (and Taste Buds!) at BBQ Beach
What's better than sand between your toes and BBQ between your teeth? WFC and its sponsors are trucking in 10 loads of beautiful white sand to create a true beach area full of food-centric, family-fun activities.This means that grilling enthusiasts will get the chance to see some of the hottest smokers and ceramic grills on the market in action, while sampling mouth-watering barbecue and soaking up some awesome BBQ tips.
11. Stake Out Your Spot In The SteakOut
How do you get the perfect grill marks on a steak? What's the secret to perfect searing? Find out at the SteakOut! Food Fans will have a chance to sample some world-class steak on Saturday, Nov 10th at the SteakOut People's Choice contest. A ticket to the event includes five premium steak samples prepared by the WFC 2018 steak competitors. And did we mention that you are the judge? With your admission you'll get one vote to put toward your favorite sample of the night to help determine the WFC's first-ever SteakOut winner. With an anticipated field of 20 steak champions, you'll need to map out the area and choose wisely! Tickets are going fast. Get yours today!
10. Savor 46 Flavors
Walmart's Tasting Pavilion — one of WFC's most popular attractions — is back and bigger and better than ever! This showcase of sweet and savory samples features 46 products from local, regional and national food brands. The best part? It's FREE if you have the Walmart App on your phone!
9. See The World's Largest Mobile Kitchen
WFC is maximizing its demo stage with the MAXIMUS transforming truck! Yep, you've seen it on Gordon Ramsay's latest TV show, but now it's making its food event debut as the Walmart Main Stage at WFC! MAXIMUS is a full-scale kitchen on an 18-wheeler semi, complete with sound, video and a transforming stage that can feature two chefs in a culinary fight! Enjoy the sights, sounds, smells and thrills of this one-of-a-kind demo stage!
8. Meet the World's Most Loveable Four-Year-Old Chef
He may be the youngest cook at the five-day tournament, but that won't stop 4-year-old Asher Baucom from showing off his culinary skills for Food Sport fans. Asher, who has Down Syndrome, discovered his love and flare for cooking by helping his mom in the kitchen. K'Anna Baucom, Asher's mom, shared with WFC that her son's tenacity and survivor attitude teaches others about compassion, patience and determination. You can catch the aspiring chef performing a live cooking demo alongside WFC Ambassador Nancy Manlove on the MAXIMUS Truck stage at the event.
7. Try to Figure Out the Grazing Table Password
WFC's Grazing Table is one of the most sought-after and exclusive attractions at the 2018 main event. This invitation-only, password protected area is the only place at the championships where you can get an up-close look and taste of the championship dishes as they go through judging. Not to mention, if you are clever enough to figure out the secret word to get into the Grazing Table, you might just find yourself rubbing elbows with some celebs and top names in the industry.
6. Win Cool Chef Swag
Food Champs aren't the only ones who walk away with goodies from WFC! In fact, this year, the event has more culinary prizes than ever before! More than $10,000 of products — from power generators to knives and full sets of pots and pans — will be given out every hour on the hour at the Walmart Main Stage. Don't miss out! You MUST be present to win!
5. See Hollywood In Action
Almost every year the WFC is filmed for a TV show, and 2018 is no exception! Spearheaded by Dick Clark Productions, this year's championship will be seen on a major network in prime time as WFC's main event and Top 10 Champions will be the toast of Hollywood. From Lower Alabama to Los Angeles, WFC is going to make a big splash! (So make sure you're smiling for the camera in the process!)
4. Discover Food Allergy Substitutes from Celebrity Chef Elizabeth Falkner
With more than 170 foods identified as allergenic, chances are you know someone who suffers from food allergies. What's the cause? What kind of research is being conducted? Is there a food solution? Find out the answers to these hot topics from Celebrity Chef Elizabeth Falkner at a FREE seminar on Nov.9th. Click here to reserve your seat!
3. Take A Bite Out Of A 4-Ton Potato (kind of)
Technically, you won't be able to eat it. But you sure can take a selfie with it! Idaho Potato Commission (IPC)will be making a stop at WFC on their cross-country tour with a 4-ton potato on a 28-foot-long, 12-foot-wide, 18-wheeler truck! Since hitting the road in 2012, the potato truck has become a pop-culture phenomenon. This tater is 1,102 times heavier than the largest potato ever grown and would easily make over 1,500,000 average-sized French fries. (So you may want to bring the selfie stick for this one!)
2. See a FOOTBALL FIELD of Appliances in Action!
Now in its 7th year, the World Food Championships features something you'll never see anywhere else….a football field of appliances worth more than $500,000! Constructed in a way to allow 40 cooks to compete at one time, our Kitchen Arena is filled with the latest cooking gadgets and appliances, from mixers to ovens to microwaves and much more. You have to see it to believe it!
1. Eat Or Compete in "Soup-Or-Bowl Sunday" with Former NFL Athlete Jarvis Green
While competitors who've won their way to the Top Ten rounds are battling it out in WFC's Kitchen Arena, Soup-or-Bowl Sunday contestants will be dishing out samples to the public in hopes of taking home some prize funds for their charity or civic group. What's the dish? Well, that's entirely up to the Soup-or-Bowl contestants! The only rule is they have to sample soup OR something that can be served in a Bowl. Who will take home this SOUPer trophy? You decide! A ticket into Soup-or-Bowl Sunday grants you a vote in this sure-to-be-a-hit people's choice competition. Click here to grab your tickets!

The 7th Annual WFC, presented by Walmart, will be held Nov 7-11 at The Wharf in Orange Beach, Alabama. To learn more about the event, visit www.worldfoodchampionships.com/tickets. In the meantime, stay up to date on all WFC news and developments by following us on Twitter (@WorldFoodChamp), and Facebook and Instagram (@WorldFoodChampionships).
« Back to News