WFC and INDIANA KITCHEN® Packing in the Flavor for 2018 Bacon Category
Share:
Posted Aug 13, 2018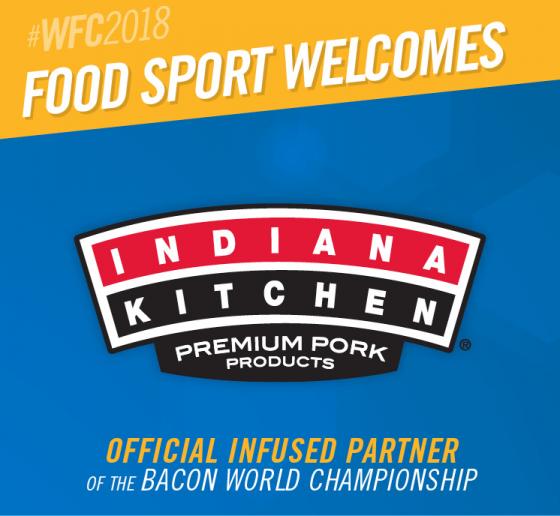 The World Food Championships (WFC) announced today that a new bacon partner has signed on to its Food Sport roster for the 2018 Main Event in Orange Beach, Alabama. Indiana Packers Corporation (IPC) is the Midwest's premier pork processor and the home of INDIANA KITCHEN® Premium Pork Products. INDIANA KITCHEN® Bacon will be bringing the sizzle to this year's Bacon World Championship as an Infused Sponsor.
IPC sources its hogs from nearby Midwestern farms and supplies grocers, restaurants, and foodservice-operators throughout the Midwest, across the U.S. and to more than 25 countries worldwide with INDIANA KITCHEN® bacon and the freshest, most flavorful, ham and fresh pork on the market.
"We are very excited to have INDIANA KITCHEN® Bacon on board for this year's food fight," said Mike McCloud, President/CEO of WFC. "Having quality brands like INDIANA KITCHEN® available to our Food Champs helps ensure that WFC will continue to see phenomenal recipes and flavorful dishes throughout our ten categories of competition."
The Top Ten bacon competitors will infuse INDIANA KITCHEN®'Bacon as they try to construct their $10,000 winning dish in the 2018 bacon championship, which is being presented by Red Gold Tomatoes. To help Food Champs become familiar with WFC's newest infusion sponsor, INDIANA KITCHEN® will send its products to all Bacon registered competitors prior to the main event. Not only will the company supply its premium bacon to the Top Ten Bacon contestants, but they will be making its product available to ALL Food Champs through the WFC Pantry.
"We are devoted to producing the highest-quality bacon, pork and ham products on the market and are thrilled to partner with WFC to help equip the chefs and cooks," said Curtis Hansen from INDIANA KITCHEN®. "We can't wait to see what creations these talented culinary competitors create using our INDIANA KITCHEN® Bacon."
The World Food Championship main event will take place Nov 7 – 11, 2018, at The Wharf in Orange Beach, Alabama. To keep up with all WFC news, follow the World Food Championships on Twitter (@WorldFoodChamp), and Facebook or Instagram (@WorldFoodChampionships).
« Back to News