WFC Carves Out New Partnership With Global Leader in Cutlery
Share:
Posted Aug 7, 2018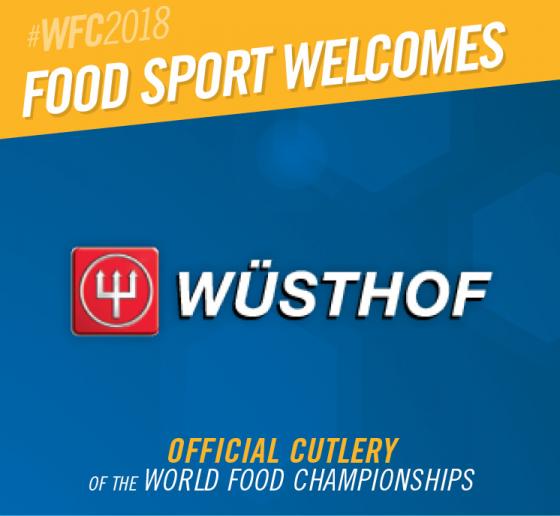 The World Food Championships (WFC) announced today that it is sharpening its focus on Food Sport by partnering with another global, industry leader. WFC proudly welcomes WÜSTHOF as its Official Cutlery in a multi-year partnership that will kick off at the 2018 championship, which will be held this fall at The Wharf in Orange Beach, Alabama.
WÜSTHOF was founded in Solingen, Germany over 200 years ago. Today, every knife is still made in the company's original birth city. The company that is dedicated to producing expertly crafted cutlery has been family-owned for seven generations. WÜSTHOF also takes pride in its commitment to environmental awareness and sustainability. For this reason, WÜSTHOF's production methods are continually optimized to increase its energy efficiency and use of raw materials, as well as limit wastewater contamination and reduce emissions of CO² and other gases.
"This is an exciting moment for WFC and Food Sport Nation. Having a legendary, industry leader like WÜSTHOF join forces with us is simply remarkable. It shows how significant Food Sport and Food Champs are becoming," said Mike McCloud, President/CEO of WFC.
For chefs and cooks who have not experienced the incredible line of WÜSTHOF knives, representatives from the company will be on hand at this year's event to demonstrate their superiority. The new World Food Champion will win 20-piece, classic block set ($2067 retail value), while all other competitors will be able to take advantage of special event packaging and WFC discounts.
"We are eager to meet the many passionate cooks and chefs at WFC," commented WÜSTHOF's National Sales Director, Clark Stone. "Their dedication and passion for perfection deserve recognition at the highest levels, and we look forward to playing a role in that process."
The 7th Annual WFC, presented by Walmart, will be held November 7 - 11 at The Wharf in Orange Beach, Alabama. More details about additional Bonus Buck opportunities will be released soon. In the meantime, stay up to date on all WFC news and developments by following us on Twitter (@WorldFoodChamp), and Facebook and Instagram (@WorldFoodChampionships).
« Back to News