Lipton Iced Tea Extends Its Official Beverage Status with WFC
Share:
Posted Aug 3, 2018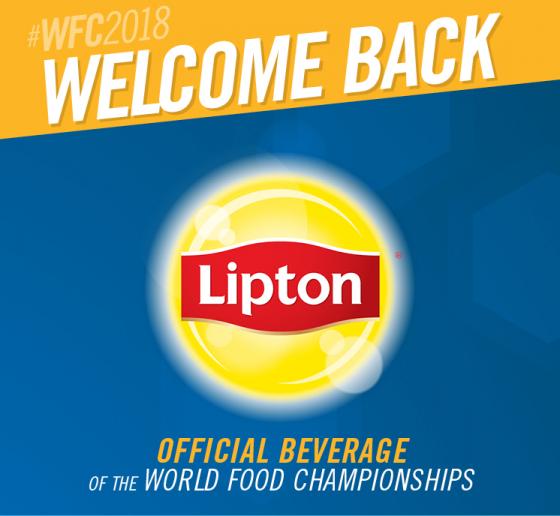 The World Food Championships announced today that Lipton Iced Tea will be making a splash once again in Orange Beach as the Official Beverage of the Ultimate Food Fight in November. Not only will refreshing Lipton Iced Tea be available to Food Champs and Judges throughout the tournament, but competition cooks in the chicken category will also get to infuse several of Lipton's products into their recipes to take home the ultimate prize.
"We are thrilled to have Lipton back with us for another exciting year of WFC," said Mike McCloud, president/CEO of World Food Championships. "Their support has helped us to create memorable Food Sport and give many culinary champions the recognition they deserve."
In addition to the tournament element, Lipton will be running a sweepstakes promotion this summer that will reward foodies from all over a chance to become a judge at this year's event. Look for your chance to win a VIP trip when shopping this summer at your local Walmart.
Buffalo Rock, one of the largest Pepsi-Cola bottlers in the South, was instrumental in connecting Lipton Iced Tea with WFC. With over 100 years of experience in the beverage industry, Buffalo Rock has been recognized throughout the years as an innovative, award-winning bottler, including the Donald M. Kendall Bottler of the Year Award (the highest honor bestowed upon Pepsi Bottlers) and Beverage Industry's Bottler of the year (the highest recognition possible in the industry). Click here to learn more about which products this Alabama-based company, Buffalo Rock, manufactures.
The 7th Annual WFC, presented by Walmart, will be held Nov 7-11 at The Wharf in Orange Beach, Alabama. Stay tuned for more Food Sport developments at WFC by following our social media, including other structure builds and infusions that will be released in sponsor announcements over the next several months. For all WFC updates, follow World Food Championships on Twitter (@WorldFoodChamp), and Facebook and Instagram (@WorldFoodChampionships).
About Buffalo Rock Company:
Buffalo Rock Company is one of the nation's largest privately held, family-owned Pepsi and Dr Pepper bottlers. The company employs more than 2,100 employee-partners who service a population of more than seven million consumers throughout Alabama, western Georgia and the panhandle of Florida. James C. Lee III, chairman of the board and CEO, and fourth-generation Lee, leads the locally focused company that has been in business for more than 116 years. The company continues to evolve its operations and brand portfolio to meet the needs of the ever-changing beverage and snack consumer. For more information about Buffalo Rock Company, visit buffalorock.com
« Back to News