Ozark River Continues Food Safety Focus at WFC
Share:
Posted Jul 31, 2018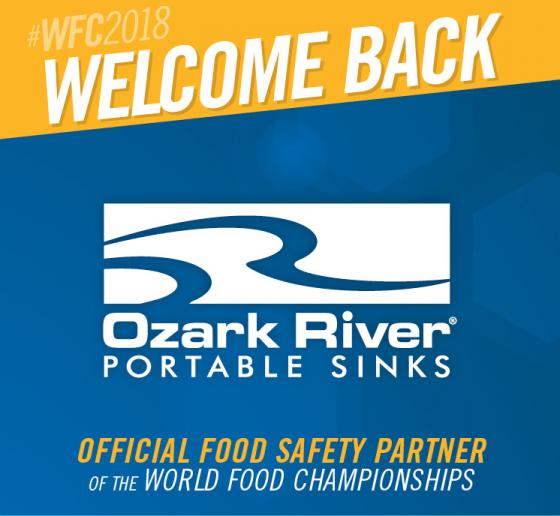 World Food Championships (WFC) announced that Ozark River Portable Sinks® will be returning to Orange Beach this year to continue its mission of elevating food safety and sanitation in Food Sport as the Official Food Safety Partner of WFC.
The Tennessee-based company will be providing, installing and maintaining its portable, hot-water sinks for competitors in WFC's Kitchen Arena, as well as consumers in the main arena, as the world' largest food tournament unfolds at the Wharf in Orange Beach, Alabama.
"As our competition continues to grow each year, food safety becomes an even more crucial part of our process in Kitchen Arena," said Mike McCloud, President/CEO of WFC. "We are so happy to welcome back Ozark River to help us elevate safety standards in a key industry of cooking."
Ozark River Portable Sinks® is dedicated to building today's most user-friendly, dependable and economical portable hand washing stations. The sinks produce the perfect amount of water for handwashing. The faucet features a sensible dispense system that streams a half-gallon of water per minute, which safeguards user hands as well as the environment.
Part of Ozark's mission is to give back to the industry while raising awareness of food safety processes, clean hands and sanitary cooking. As a result, Ozark will once again reward a few deserving organizations with a free portable sink based on need and commitment to these food initiatives. To learn more about qualifying for this program, check out the registration process by filling out the form under the Hardship and Hope Link at ozarkriver.com.
The 7th Annual WFC, presented by Walmart, will be held Nov 7-11 at The Wharf in Orange Beach, Alabama. More details about additional Bonus Buck opportunities will be released soon. In the meantime, stay up to date on all WFC news and developments by following us on Twitter (@WorldFoodChamp), and Facebook and Instagram (@WorldFoodChampionships).
About Ozark River
Ozark River Portable Sinks® (www.Ozarkriver.com) is the premier manufacture of NSF compliant hot water sinks. Its attention to quality has made them a leader in both innovation and service. All of their sinks feature instant hot water technology and convenient quick-connect tanks, giving customers the benefits of hot water without the expense of plumbing. 100% of the indoor and outdoor sinks are manufactured in its 40,000 sq. ft. facility located in Murfreesboro, TN.
« Back to News