WFC Welcomes Mushroom Council To Food Sport
Share:
Posted Jul 30, 2018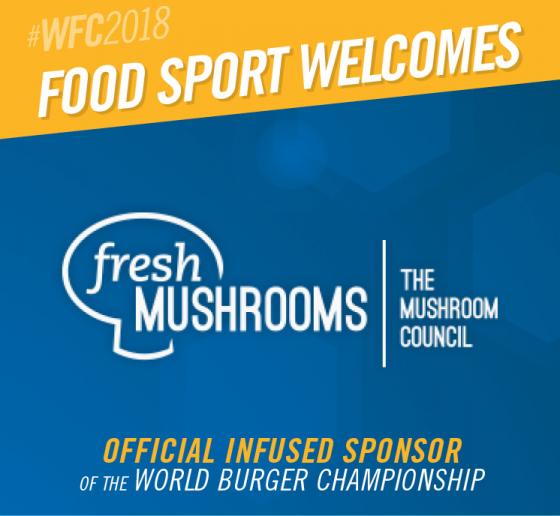 If it feels like Food Sport is growing rapidly — with WFC events popping up around the country overnight — you might be right. Especially now that the world's Ultimate Food Fight is adding a new partner to its all-star line-up for this year's Main Event.
The Mushroom Council announced today that it will be joining the World Food Championships at The Wharf in Orange Beach, Alabama in November to reward innovative competitors with a chance to take home additional cash.
The Mushroom Council, which represents producers that grow or import an average of 500,000 pounds of mushrooms annually, will be a part of WFC's brand new Bonus Bucks program. This inaugural program gives competitors a chance to earn extra cash regardless if they make the Top 10 rounds in their respective category. While participation in the Bonus Bucks program is optional, 2018 Burger competitors will have a shot at taking home an additional $1,000 cash prize by incorporating mushrooms in their Signature round dish.
"We are excited to welcome the Mushroom Council to the growing industry of Food Sport," said Mike McCloud, President/CEO of WFC. "We are always looking to create unique challenges for our cooks that involve great products and flavors."
To participate in the challenge, competitors in the World Burger Championship — which is presented and sponsored by Heisman-trophy winner Bo Jackson's "Bo's Burgers" — will be required to create a Blended Burger during the Signature round of competition. This means that Bo's Burgers will be composed of at least 25 percent finely chopped mushrooms and use no binding ingredients. Additional mushrooms may be used as a topping or side dish ingredient. Burgers may include any combination of mushrooms, cheeses, condiments, and toppings. The highest scoring burger that meets all Bonus Bucks requirements will take home a $1,000 prize.
"We are thrilled to be a part of this year's Ultimate Food Fight," said Bart Minor, Mushroom Council president. "We can't wait to see and taste what innovative recipes these talented competitors create using mushrooms."

To learn more about the Mushroom Council, click here.
More details about additional Bonus Buck opportunities will be released soon. In the meantime, stay up to date on all WFC news and developments by following us on Twitter (@WorldFoodChamp), and Facebook and Instagram (@WorldFoodChampionships).
« Back to News