Chefs Will Have To Step Up To "The Plate" at WFC in 2018
Share:
Posted Jul 27, 2018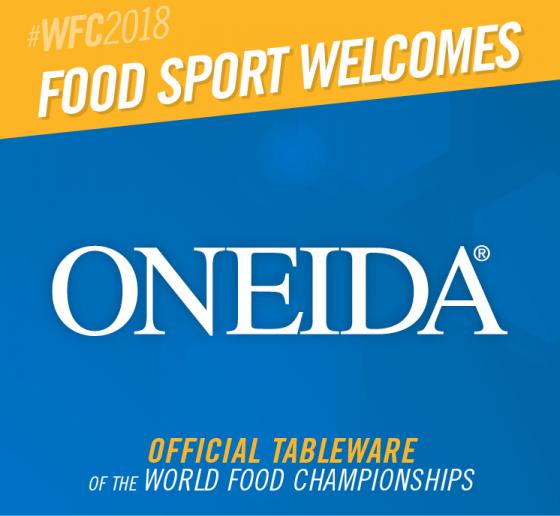 The World Food Championships announced today that it has joined forces with Oneida, a global leader in the flatware and tabletop industry, to bring an elevated plating standard to this year's main event in Orange Beach, Alabama.
As part of the new relationship, Oneida will become the official plateware provider of WFC, as well as the featured turn-in dish for all of the finalists in the Top 10 round of the World Chef Challenge. An array of Oneida products will be on public display during the championship, while a limited pantry of plating options will be made available to competitors in other categories who want to showcase their recipes on the company's dishes.
"Appearance plays a key role in how well a competitor's dish will score in our competition," said Mike McCloud, President/CEO of the World Food Championships. "That's why we are delighted to be featuring Food Champ recipes on Oneida's beautiful plateware at this year's event. By utilizing their plates in one of our Top 10 rounds, our competitors will get to see firsthand how we are leveling the playing field for Food Sport, but also how quality products like Oneida can truly elevate your game."
Oneida exists to lead the tabletop industry in innovative, authentic design, creating unique, unforgettable dining experiences. Gracing tables for over 100 years, Oneida has been a staple in homes, fine dining establishments, family restaurants and hotels for decades. Now as a part of the world's biggest Food Sport competition, cooks in the Top Ten round of the World Chef Challenge will be required to use the Oneida products in their plating.
To learn more about Oneida and its innovative designs, visit www.oneida.com for retail products, and foodservice.oneida.com for foodservice grade products. Chefs and operators can also take a short quiz at PlateEnvy.com to discover, 3D visualize and sample their personalized tabletop recommendation.
The 7th Annual WFC, presented by Walmart, will be held Nov 7-11 at The Wharf in Orange Beach, Alabama. Stay tuned for more Food Sport developments at WFC by following our social media, including other structure builds and infusions that will be released in sponsor announcements over the next several months. For all WFC updates, follow the World Food Championships on Twitter (@WorldFoodChamp), and Facebook and Instagram (@WorldFoodChampionships).
About The Oneida Group
Driven by devotion to design, The Oneida Group (formerly EveryWare Global) is recognized for providing quality tabletop and kitchen solutions through its consumer, foodservice, and specialty channels. The company's global platform allows it to market and distribute internationally its total portfolio of products including bakeware, beverageware, serveware, storageware, flatware, dinnerware, crystal, buffetware and hollowware; premium spirit bottles; cookware; gadgets; candle and floral glass containers; and other kitchen products, all under a broad collection of widely-recognized brands, including Oneida, Anchor Hocking, Sant'Andrea, Noritake, Buffalo, Delco, and Fire-KingAnchor Hocking, LLC and Oneida Ltd. are subsidiaries of The Oneida Group. Additional information can be found at www.theoneidagroup.com, www.anchorhocking.com, www.anchorhockingbottles.com, www.oneida.com, and www.foodservice.oneida.com.
« Back to News