WFC and Jelly Queens Launch Bonus Bucks Program With The Jam-N-Pie Challenge
Share:
Posted Jul 26, 2018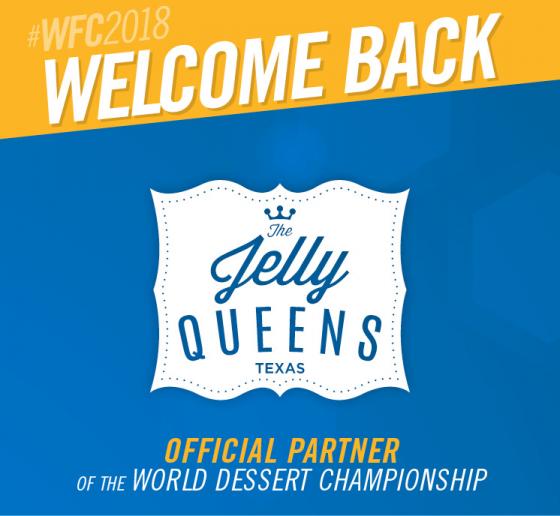 The World Food Championships (WFC) announced today that The Jelly Queens will be back in action this year at the Main Event as a special Dessert sponsor. The Dallas-based company — which features unique flavors of jam, jellies, spreads and pie fillings — is partnering with Texas Petite Pie to give competitors a chance to win instant cash through a "Jam-N-Pie" Bonus Bucks challenge.
The Bonus Bucks program was just introduced by WFC this year, and it marks the first time that the use of special ingredients will yield extra cash for Food Champs, regardless if they make the Top 10 "in the money" round.
Any competitor who uses Jelly Queens products or Texas Petite Pie filling in their dessert dish will be entered into a contest within a contest that nets the top finisher a bonus of $1,000. This will happen in all three rounds - signature, structure and Top 10 - of the Dessert category. So no matter what position a competitor achieves after using Jelly Queens in their Dessert dish, the competitor who finishes highest amongst their peers will win $1,000. Chances are that three different Food Champs will end up taking home this extra cash!
Competitors will be able to use any flavor of Jelly Queens products or Texas Petite Pie filling in this special challenge. (And yes, a pantry of Jelly Queens / Petite Pie products will be on site and available for purchase.)
"This Jam-N-Pie challenge is an incredibly sweet development! But all puns aside, this is going to be one of the most interesting and unique ways for competitors to improve their chances of winning money this year," said Mike McCloud, President/CEO of WFC. "We can't wait to see what recipes come from this, and how exciting the awards program will be when someone gets to race to the stage for cash!"
Consumers attending the Ultimate Food Fight will also get to enjoy some sweet treats from Jelly Queens and Texas Petite Pie by visiting the Walmart Tasting Pavilion. As WFC's most popular attraction, this showcase of brands features samples from local, regional and national companies. The best part is that this year you can get into the Tasting Pavilion for FREE if you have the Walmart app!

To find out more about the Jam-n-Pie Bonus Bucks, The Jelly Queens and Texas Petite Pies, please visit www.jam-n-pie.com.
The 7th Annual WFC, presented by Walmart, will be held Nov 7-11 at The Wharf in Orange Beach, Alabama. More details about additional Bonus Buck opportunities will be released soon. In the meantime, stay up to date on all WFC news and developments by following us on Twitter (@WorldFoodChamp), and Facebook and Instagram (@WorldFoodChampionships).
« Back to News