WFC Adds New Ancillary to "Beef" Up the Steak Division
Share:
Posted Jul 17, 2018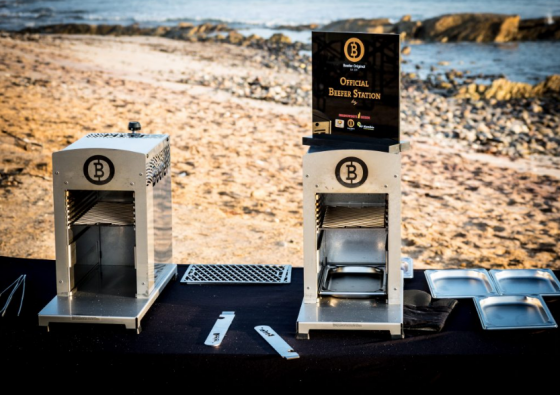 The stakes are high and getting higher for the 7th Annual World Food Championships, which is set to take place in Orange Beach, Alabama in November. With more than $300,000 in cash on the line in the main event, WFC is now starting to reveal that even more money and prizes will be available this year through some unique ancillary competitions.
The latest ancillary to be added to the Ultimate Food Fight? A "Beat the Beefer" challenge presented by Beefer Original, a German-based, top-down searing machine that can generate a stunning 1500 degrees of fahrenheit heat.
This competition will be available to Steak competitors only, specifically the teams who do not make it into the Top Ten finals for Steak. Here's how the second-chance opportunity will occur: after Thursday's "Group A" competition under SCA rules, the top five teams will advance to the Top 10 round that occurs on Sunday and uses the WFC EAT methodology. But teams that finish sixth through 10th in Group A will get a chance to "beat the Beefer" inventor on Friday. If they can do that — by winning over consumers at the event who will be the judges — then they'll win extra cash! The same situation will occur for Friday's "Group B"; the top five move on to Sunday's final, while sixth through 10th get a shot at "beating the Beefer."
Most of the rules for this new and fun challenge will be explained on site to the Steak contestants with Beefer representatives present for product instructions and insight. So for now, simply start doing your homework, Food Champs! Go online to www.us.beefer.com and start learning about this awesome new product!
"Every year at WFC, we try and offer our Food Champs more opportunities to showcase their skills and take home some additional cash while also elevating innovative brands in the Food Sport industry," said Mike McCloud, President/CEO of WFC. "This challenge is a win-win because it not only allows us to give our competitors more chances to win but allows us to educate the community about a great new product for chefs and backyard grillers."
The Beefer features a unique design and high-performance ceramic burner. The steak-searing temperatures can reach up to 1500º fahrenheit—nearly 3X hotter than conventional gas grills. The Beefer's super-hot temps ensure short cook times, maximum caramelization, and restaurant-quality results every time.
The 7th Annual WFC, presented by Walmart, will be held Nov 7-11 at The Wharf in Orange Beach, Alabama. Stay tuned for more Food Sport developments at WFC by following our social media, including other structure builds and infusions that will be released in sponsor announcements over the next several months. For all WFC updates, follow the World Food Championships on Twitter (@WorldFoodChamp), and Facebook and Instagram (@WorldFoodChampionships).
« Back to News