WFC "Rolls Out" the Red Carpet for Returning Partner
Share:
Posted Jul 10, 2018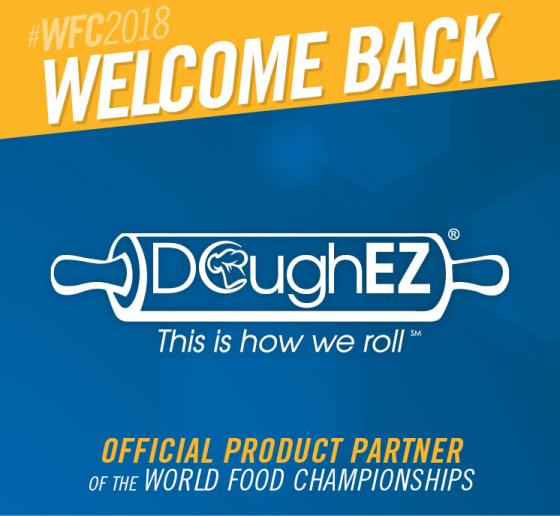 The World Food Championships announced today that DoughEZ will be returning to the Ultimate Food Fight in 2018 as an Official Product Partner.
"We are thrilled to have DoughEZ back with us for another year," said Mike McCloud, President/CEO of WFC. "When our competitors have quality products like those created by DoughEZ, it helps them elevate their craft to the next level to produce some outstanding and award-winning creations."
DoughEZ, who is also the Structured Build round sponsor of the dessert category, will be providing its Rolling System and 10" Silicone Glass Bottom Pie Pan for competing cooks to use during the competition. This glass bottom baker makes perfect pies, quiches, tarts, and more. This product features a flexible silicone rim and tempered glass bottom with no side walls to yield a perfect slice every time.
"We are really excited to continue our partnership with WFC to help promote well-deserved cooks from around the country," said Brenda Byrne Founder of DoughEZ. "We can't wait to see what sweet sensations these talented Food Champs create at this year's WFC."
The Florida-based company will be sending its products to dessert competitors prior to the championship so they can become familiar with using them before entering Kitchen Arena. Accompanied with the rolling system and pie pan, will be a series of instructional videos to help Food Champs practice. Competitors should receive their packages by September 15 and will be expected to bring them with them to the main event in November.
The 7th Annual WFC, presented by Walmart, will be held Nov 7-11 at The Wharf in Orange Beach, Alabama. Stay tuned for more Food Sport developments at WFC by following our social media, including other structure builds and infusions that will be released in sponsor announcements over the next several months. For all WFC updates, follow World Food Championships on Twitter (@WorldFoodChamp), and Facebook and Instagram (@WorldFoodChampionships).
About DoughEZ
DoughEZ is the faster, easier, cleaner way to prepare your favorite dough recipes from cookies, pie doughs, pasta, bread dough and more "This is how we roll." It is a simple rolling system solution to eliminate the floury mess and stress of overworked dough. For more details, follow DoughEZ on Facebook (@doughez) and Twitter (@Dough_EZ).
« Back to News