2018's Ultimate Food Fight Is Filling Up Fast
Share:
Posted Jul 2, 2018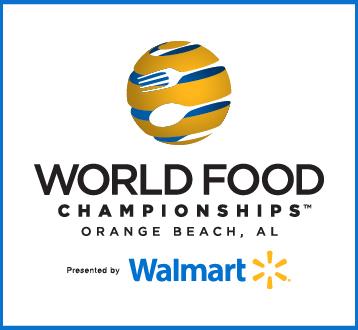 The largest Food Sport tournament in the world has been making waves for years, but now it's setting enrollment records. The 2018 competition was more than 70% full on July 1st, with five categories already closed due to a record pace of registrations.
On Friday, the World Food Championships announced that three categories were now on waiting list status only — Burger, Dessert and Seafood.
TODAY, the Chef and Chicken categories were also closed and added to that waiting list status.
"This is the fastest registration pace that we have ever seen," commented Mike McCloud, CEO/President of WFC. "It's exciting for sure, but it's also a sign that Food Sport is gaining momentum throughout the nation. The fact that our state partners, sponsors and teams everywhere are abuzz about WFC is proving that the industry wanted and needed its own 'Super Bowl' moment for food."
Deadline to register for the main event typically closes on August 31. However, with a limited number of Golden Ticket spots remaining, it's doubtful that open enrollment will remain available that long. Which means all eyes will now be on the remaining super events that are operated by WFC's State Partners or Elite Qualifiers. Some of those include:
State Partner Events:
Texas: The Texas Super Chef Throwdown, October 3 - 6. (12 Golden Tickets)

California: The Cali Cooking Competition, October 13-14. (20 Golden Tickets)

Georgia:

Missouri: Show Me Series Competitions:

The Burger Throwdown, July 12 (2 Golden Tickets)

Saint Louis - Atomic Cowboy (Bacon), August 16 (2 Golden Tickets).

Tennessee:

FiveStar Food Fight July 15 (1 Golden Ticket)

Lodge Cast Iron Cook-off August 25 (1 Golden Ticket)

Beast Feast® BBQ Festival September 2 (1 Golden Ticket)

Springer's Scenic City Wings September 23 (1 Golden Ticket)

Alabama: Various qualifying event throughout the state. Click here for more details.
Elite Qualifiers:
Click here for the full list of Elite Qualifiers.
A few online Recipe challenges also remain, giving Food Champs who can't travel to qualifiers a chance to win through social media or online portals. Those include:
"Every year WFC just seems to get bigger and better," McCloud commented. "With all this excitement occurring so early in the year, and all the registrations being snatched up so quickly, it actually helps our staff and contractors to get prepared earlier as well. We fully expect that this will be the best event yet, and that Orange Beach, Alabama is going to be a sensational foodie destination in November!"
To learn more about how you can snag the last Golden Tickets to the Ultimate Food Fight, click here.
The World Food Championship main event is scheduled for Nov 7 – 11, 2018, at The Wharf in Orange Beach, Alabama. To keep up with all WFC news, follow World Food Championships on Twitter (@WorldFoodChamp), and Facebook or Instagram (@WorldFoodChampionships).
« Back to News