Gotham Steel Joins WFC As California State Partner for Food Sport Expansion
Share:
Posted Jun 25, 2018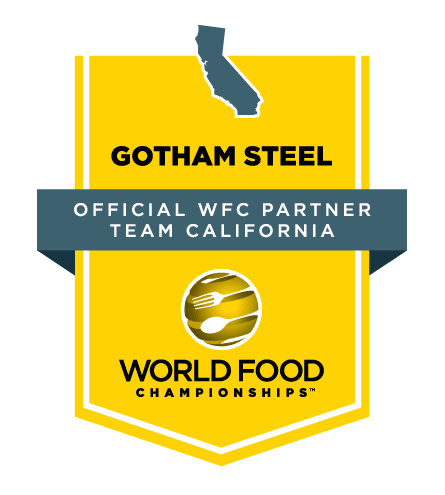 The World Food Championships (WFC) announced today that Gotham Steel has joined the Ultimate Food Fight as the Official State Partner for California.
The agreement marks the sixth partner to join WFC's expansion into state programs that help focus and localize the qualifying process for cooks and chefs trying to earn their way into the world's largest cooking tournament. As a result, all residents from the state of California who want to earn a Golden Ticket into WFC's main event, which will occur in November, will now have to qualify through the Cali Cooking Competition in October.
"California, with its great culinary talent, has been one of our top competing states since we started WFC in 2012," said Mike McCloud, president/CEO of World Food Championships. "We are thrilled that Gotham has joined us in providing residents of California with a creative and fun way to earn a chance at food fame and fortune."
There are, of course, some California food champs who have already earned their way into the 2018 event. A great performance at 2017's event (by making the Top 10 or winning a category), as well as any BBQ or Chili Champions of sanctioned events this past year — will earn a spot in the 2018 field under existing rules. Also, contestants who win in the Taste of America online recipe contest will earn an exemption into 2018 as well.
The Cali Cooking Competition will award 20 Golden Tickets and take place in Hollywood, California on October 13 - 14. The two-day tournament will be comprised of 10 categories: Seafood, BBQ, Any and all things meat, Healthy (Vegan, Gluten-Free, Organic, Raw), Pasta, Dessert, Recipe (free reigns), Breakfast, Molecular Gastronomy, and International Cuisine. The competition will award a People's Choice winner and a Judge's Pick Winner in each category with a Golden Ticket, qualifying them for the main event in November in Orange Beach, Alabama. The statewide food fight will also be hosting a welcome reception for all competing chefs at The Hollywood Roosevelt. Competitors can register and learn more about the qualifying event at www.calicookingcompetition.com.
Stay tuned for more partner announcements about WFC 2018. To keep up with all WFC news, follow World Food Championships on Twitter (@WorldFoodChamp), and Facebook or Instagram (@WorldFoodChampionships)
About Gotham Steel:
Gotham Steel is the newest technology in non-stick cookware made with ceramic and super strong titanium. Cooking with Gotham Steel is like cooking on air! Everything slides right off! To see what products Gotham Steel has to offer, visit their site at www.gothamsteel.com.
« Back to News