WFC Announces NEW Steak Guidelines and Process for 2018
Share:
Posted Jun 21, 2018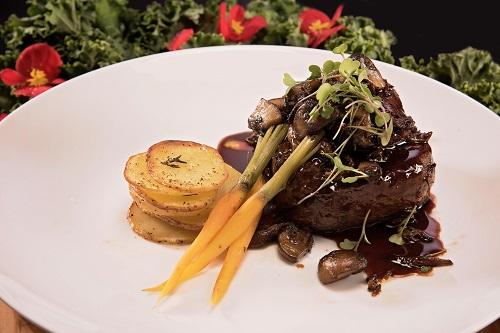 The World Food Championships (WFC) announced today that it would be raising the "steaks" in 2018 for its competitors. For the first time in its seven-year history, WFC will be operating its opening round of the World Invitational Steak Championship through the sanctioning process of the Steak Cookoff Association (SCA). This decision was made as a way to expand the category and tie into the fastest growing Food Sport genre in America.
"We are grateful and looking forward to this expansion with SCA," said Mike McCloud, President/CEO of WFC. "At WFC, we are always searching for new ways to improve our competition and make it the most beneficial and rewarding experience for our competitors. By using SCA rules and regulations this year during our opening round of competition, it will allow us to innovate as well as expand the steak category."
Some things will remain the same under SCA rules. For example, steak competitors will not be allowed to mark or brand their entry dish in any way. Other SCA guidelines, such as no garnish on the turn-in tray, will be slightly different than WFC's E.A.T. Methodology judging process.
"We really want each competitor's dish to be able to make a statement, or should I say 'steakment,'" explains McCloud. "SCA's process will help narrow down the best dishes by letting the protein and culinary ability of the cook speak for itself."
For the SCA opening round, the large field of steak contestants will be broken into two groups by random selection. Cooks selected in Group A will compete on Thursday, and Group B cooks will go head-to-head on Friday. Once both groups have battled, the Top Five highest scoring competitors from each group will go onto the final round, which will be held on Sunday. In the Top Ten round, WFC will use their standardized E.A.T. Methodology to determine who will take home the World Invitational Steak Champion title and $10,000 purse.
Here is a brief overview of the SCA process:
Cooks may cook on any fire or heat source.

NO other steaks are to be present at cook sites other than the ones provided to the teams by promoters.

Steaks may not be removed from the team's cooking area except to turn for entry. Steaks should be cooked Medium (warm pink center).

Steaks may be lightly trimmed before, but not after cooking.

Steaks may not be marked or branded in any way. (Grill marks are not considered marking).

Steaks must be turned in whole and uncut on top of the provided foil disk.

The provided foil disks must be placed in the box, silver side up and not folded in any way.

No Garnish is allowed.
The official WFC Competitor Packet will be released on September 1. In the meantime, to learn more about SCA and for a complete list of rules and regulations, visit www.steakcookoffs.com/SCA-Rules.
The 7th Annual WFC, presented by Walmart, will be held Nov 7-11 at The Wharf in Orange Beach, Alabama. Stay tuned for more Food Sport developments at WFC by following our social media, including other structure builds and infusions that will be released in sponsor announcements over the next several months. For all WFC updates, follow World Food Championships on Twitter (@WorldFoodChamp), and Facebook and Instagram (@WorldFoodChampionships).
« Back to News