New WFC Partner 'Musters' Up Bold Flavors for the Ultimate Food Fight
Share:
Posted Jun 12, 2018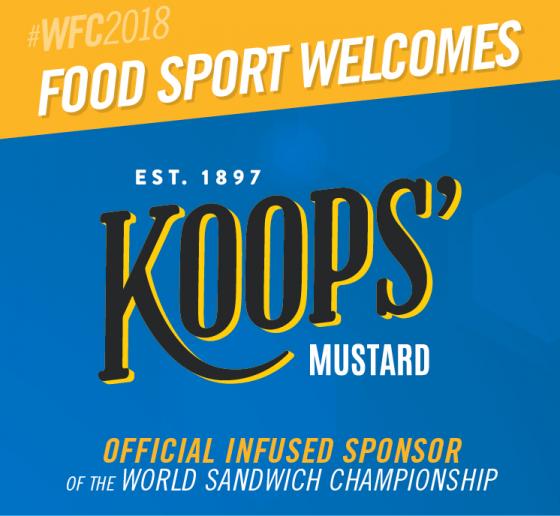 The World Food Championships announced today that Koops' Mustard of Olds Products Company, has signed on for the biggest event in Food Sport. As an Official Product Partner of the 7th annual World Food Championships, Koops' Mustard will provide a variety of products for sandwich competitors from around the globe to use in Kitchen Arena as they battle it out for the Sandwich championship and seat at the $100,000 Final Table.
The Wisconsin-based company has everything from traditional styles to innovative favorites, so there's a Koops' for every taste! With 14 bold flavors that can satisfy any appetite, it makes good food great and great food amazing. Competitors will have the chance to incorporate five (Arizona Heat, Stone Ground, Dijon, Horseradish, and Dusseldorf) of the signature line of flavors into their competition dishes at WFC 2018. This year, Koops' will also be featured as the only mustard in the WFC Pantry.
"We are so excited to have Koops' Mustard aboard with us for this year's competition," said CEO, and President of the World Food Championships, Mike McCloud. "I know our field of cooks will be eager to get their hands on these products. I'm looking forward to seeing what savory creations our competitors 'muster' up."
Koops' has a tradition of quality, and they have been crafting mustard with only the finest ingredients for over 120 years. The products have no complicated additives, hard to pronounce chemicals or scary sounding preservatives. Instead, their popular spreads are made up of quality ingredients like mustard seed, vinegar, and water.
"We are thrilled to see how all of the competitors in Kitchen Arena use our products to add an extra dose of flavor to their dish," said Koops' Mustard Sales Manager, Jake Remien. "We are honored to be a part of helping these food champs create award-winning food at the world's Ultimate Food Fight."
To learn more about Koops' Mustard and find out where their products are carried, visit www.koopsmustard.com. Competitors are also encouraged to email koops@oldsfitz.com or contact Koops' on Facebook to get their 'Koops' Kit!' so they can practice with the five mustard varieties.
The 7th Annual WFC, presented by Walmart, will be held Nov 7-11 at The Wharf in Orange Beach, Alabama. Stay tuned for more Food Sport developments at WFC by following our social media, including other structure builds and infusions that will be released in sponsor announcements over the next several months. For all WFC updates, follow World Food Championships on Twitter (@WorldFoodChamp), and Facebook and Instagram (@WorldFoodChampionships).
« Back to News