WFC Extends Its Relationship with Bull Outdoor Products
Share:
Posted Jun 7, 2018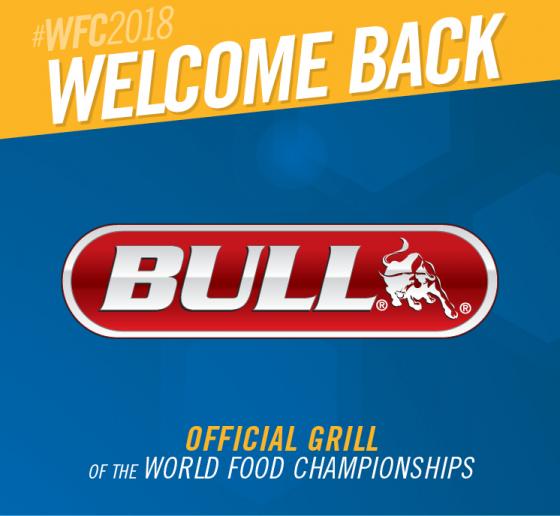 Orange Beach, Ala. – WFC announced today that it has extended its relationship with Bull Outdoor Products, Inc., making the company's products the Official Grill of the World Food Championships for 2018 and 2019.
Bull Outdoor Products, Inc., a world leader in the manufacturing of premium BBQ Grills and Outdoor Kitchens, has been a key partner to WFC since 2013, enabling the event to provide a level playing field in the grilling area with premium equipment.
"It's always exciting to play a key role in the Kitchen Arena of WFC, where we consistently see a field of the most talented and passionate Food Sport competitors in the world," said Mark Nureddine, founder and owner of Bull Grills. "The world-class recipes they are able to create on our grills just amazes me each year."
For the seventh year in a row, the world's largest outdoor cooking arena will once again feature more than $100,000 worth of Bull's premium Steer three-burner grills. These grills come standard with the company's proprietary Reli-A-BULL technology, which was developed in conjunction with California Polytechnic to eliminate uneven heating and enhance outdoor cooking experiences.
As WFC's seasoned competitors have come to learn, one of the biggest advantages to using a Bull Premium BBQ Grill is its ability to perform with exceptional results under the most intense conditions. The powerful 15K BTU burners heat up very quickly, allowing a competitor to focus on his or her food rather than worrying about the grill. This versatility of the Bull grills allows cooks to easily shift from cooking burgers and steak to using it as an oven or to sauté.
"Quality products for our cooks are a vital part of the WFC competition," said Mike McCloud, President, and CEO of World Food Championships. "It is crucial for our Food Sport athletes to have dependable and versatile tools to create their award-winning dishes. Not to mention, the exceptional on-site service we get from Bull is so important to help make sure things are running smoothly throughout the jam-packed days of competition."
The World Food Championship main event is scheduled for Nov 7 – 11, 2018, at The Wharf in Orange Beach, Alabama. To keep up with all WFC news, follow World Food Championships on Twitter (@WorldFoodChamp), and Facebook or Instagram (@WorldFoodChampionships). For more information about Bull Outdoors Products Inc., visit https://www.bullbbq.com/.
About Bull Outdoor Products
Bull Outdoor Products Inc. is a leading innovator and manufacturer of quality branded products developed and designed for the outdoor living marketplace. Its products are sold to customers in specialty retail, hearth, hardware, appliance, building materials and the building trade throughout the US, Canada, Europe, South and Central America. Bull is committed to providing the most complete line of premium products at the best value in the industry. Specific product categories include grills, cart grills, grilling accessories, rubs, sauces, fire features, outdoor kitchens and their components. The company was founded in 1993 and is currently headquartered in Lodi, California with two other factories and dealer showrooms located in Athens, Tennessee and Rialto, California. http://www.bullbbq.com.
« Back to News