WFC Adds Kitchen Appliance Partner "Into The Mix"
Share:
Posted May 25, 2018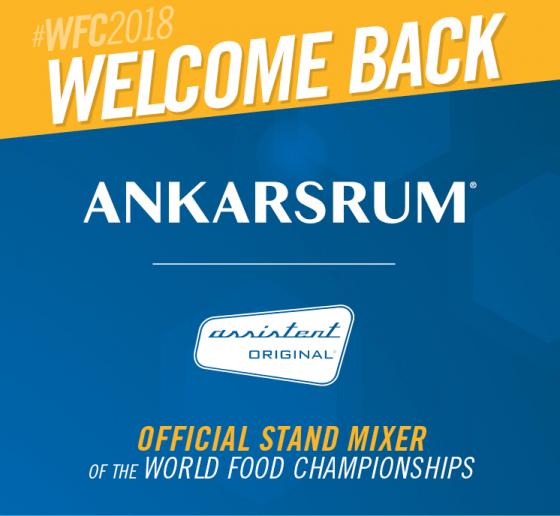 The World Food Championships announced today that Ankarsrum, a company devoted to creating robust, dependable and easy-to-use kitchen accessories for private and professional use, will be returning to the world's largest Food Sport event as its Official Stand Mixer Partner for 2018.
For the second year in a row, this Swedish kitchen appliance company will be supplying competitors in Kitchen Arena with their Original AKM 6230 Mixers, Meat Mincer packages, and blender attachments as they compete for the ultimate food crown.
"We are so excited to have Ankarsrum back as our Official Stand Mixer Partner for another great year of Food Sport," said President, and CEO, Mike McCloud. "Quality kitchen appliances can help make or break a cook's entry dish during our competition, which is why we've partnered with a company that is devoted to building high-quality, sturdy and reliable kitchen tools."
Since its launch during the Second World War to the present day, the Ankarsrum Original has been developing and improving in a number of areas, while also expanding their product line. However, throughout their development, the company has always remained true to the basic construction and original concept of making robust, dependable and easy-to-use kitchen accessories. Ankarsrum's state-of-the-art mixer has been voted "Best in Test" on numerous occasions.
Ankarsrum will also be awarding WFC's 2018 World Dessert Champion with a brand-new Original AKM 6230 Mixer. In addition to seeing the Swedish kitchen products in use by Food Sport competitors in the Ultimate Food Fight, WFC attendees will be able to catch live on-site demonstrations of the company's products.
The 7th Annual WFC, presented by Walmart, will be held Nov 7-11 at The Wharf in Orange Beach, Alabama. Stay tuned for more partner announcements about WFC 2018. To keep up with all WFC news, follow World Food Championships on Twitter (@WorldFoodChamp), and Facebook or Instagram (@WorldFoodChampionships).
« Back to News