Challenge Butter Spreads the Flavor in WFC's Seafood Category for 2018
Share:
Posted May 21, 2018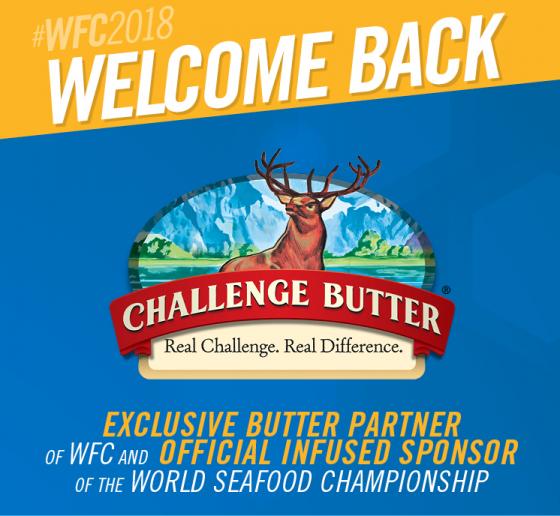 World Food Championships (WFC) is proud to announce the return of one of its longest-standing Food Sport partners, Challenge Butter, as the Official Butter of its 7th Anniversary event in Orange Beach, Alabama. Challenge's world prize butter is also the official Infusion ingredient of the Top 10 finalist round of the World Seafood Championship category.

A dairy cooperative of more than 400 family-owned dairies, Challenge Butter has been dedicated to providing the freshest and highest quality butter for more 100 years. Given the World Food Championships is a crucial time to have only the best ingredients in a world-class dish, Challenge Butter is proud to offer the world's best culinary champs the best butter for the job.
"Challenge Butter began as a 'challenge' to itself to always provide the highest quality products," said Tim Anderson, SVP of Retail and Foodservice at Challenge Dairy Products, Inc. "The culinary enthusiasts that come together at World Food Championships know the impact a quality ingredient makes in their competitive dishes and Challenge is humbled by their support and honored to be a part of this year's event."
Challenge Butter will be available for WFC competitors at the main event for use in their official entries. Additionally, Challenge Butter is helping food champs qualify for the Ultimate Food Fight through WFC's Taste of America online recipe contest. To learn more, click here.

The World Food Championship main event is scheduled for Nov 7 – 11, 2018, at The Wharf in Orange Beach, Alabama. To keep up with all WFC news, follow World Food Championships on Twitter (@WorldFoodChamp), and Facebook or Instagram (@WorldFoodChampionships). For more information on Challenge Butter, visit www.challengedairy.com and www.facebook.com/challengebutter .

ABOUT CHALLENGE BUTTER
Award-winning Challenge Butter began more than one hundred years ago. Its portfolio of products includes Salted and Unsalted Challenge Butter, Whipped Challenge Butter and Salted and Unsalted European Style Butter. Its line of spreadable butters includes Italian Herb & Garlic, Challenge Lite Spreadable Butter with Olive Oil, a Challenge Spreadable Butter Flavored with Olive Oil, Challenge Spreadable Butter with Canola Oil and Challenge Lactose-Free Spreadable Butter. Its cream cheese line features four products including regular Challenge Cream Cheese, Challenge Spreadable Cream Cheese, Challenge Whipped Cream Cheese and Challenge Neufchatel Cheese. Challenge has not only been a pioneer in the quality in butter products but is also responsible for many industry firsts including invention of the first aluminum butter churn, lab sampling of butter and shipping butter in paper rather than wooden crates. Visit Challenge on Facebook at http://www.facebook.com/challengebutter or at http://www.challengedairy.com.
« Back to News