Wampler's Returns with a "mega" challenge for the 2018 Ultimate Food Fight!
Share:
Posted May 17, 2018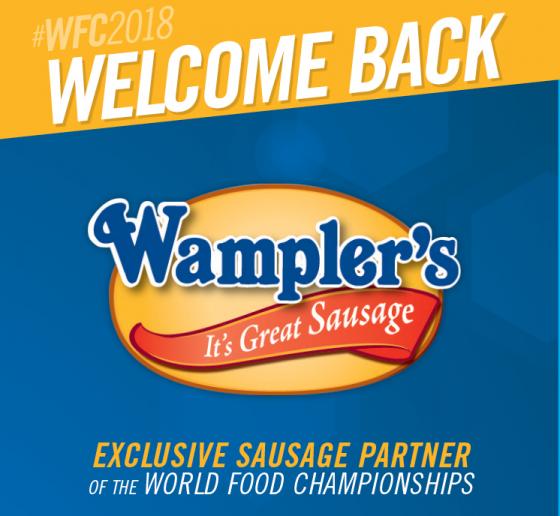 Wampler's Farm Sausage is returning to WFC for the third year in a row with a "mega" challenge for all of the teams in the chef category. "Omega," that is.
As a World Chef Challenge sponsor and official sausage of WFC, the Tennessee-based, family-owned company will provide contestants with its Omega-3 sausage to see what creative chef recipes will sizzle to the top. Wampler's Omega-3 sausage is made from Willowgrove Hill hogs that are fed a patented, marine-based diet, enriching the pork with EPA and DHA omega-3 fatty acids. Chefs will be required to use the new sausage as an infusion during the Top 10 round of the 2018 World Chef Championship. Additionally, for the first time in WFC's history, the Chef who uses the sausage and has the highest scoring dish in the Signature round will receive an instant bonus of $1,000 (regardless of whether or not they make the Top 10).
The 7th Annual WFC, presented by Walmart, will once again be held at The Wharf in beautiful Orange Beach, Alabama.
"We are thrilled to have Wampler's Farm Sausage back for another exciting year of Food Sport competition," said WFC President and CEO Mike McCloud. "It is quality products like their Omega-3 sausage that really help our competitors take their recipes to the next level."
Wampler's will also give competitors in remaining categories a chance to create mouth-watering dishes of their own using the same Omega-3 sausage. The WFC pantry will be stocked with the sausage for the entire WFC event, as well as featured for consumers in the WFC Tasting Pavilion.
"We are so excited to see what recipes the talented field of food competitors create using our sausage," said Ted Wampler, Jr., president of Wampler's. "We have devoted more than 80 years to producing the best quality pork products, and we love seeing the innovative ways these chefs, home cooks and pro teams utilize them to create truly awarding-winning dishes."
Leading up to the main event, Wampler's is also helping hopeful competitors qualify for the world's largest food fight through WFC's Taste of America online recipe contest. To learn more about how to enter, click here.
To learn more about Wampler's Farm Sausage, visit http://www.wamplersfarm.com/.
Stay tuned for more WFC 2018 partnership announcements. To keep up with all WFC news, follow World Food Championships on Twitter (@WorldFoodChamp), and Facebook or Instagram (@WorldFoodChampionships).
« Back to News