WFC Adds An All-Star to its 2018 Burger Line-up
Share:
Posted May 10, 2018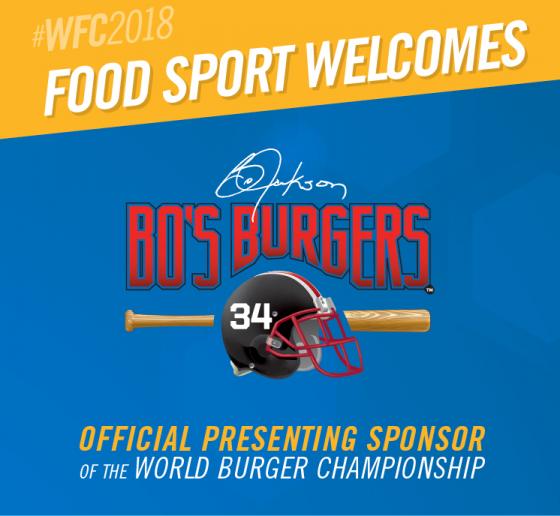 The World Food Championships is tackling Food Sport like never before with the help of its new all-star partner. WFC proudly announced today that Bo Jackson's signature gourmet line of burgers, Bo's Burgers, will be joining the "ultimate food fight" in Orange Beach, Ala., in November as the presenting sponsor of the event's 2018 Burger Category.
After finishing his duties as part of the Final Table judging panel to help determine WFC's 6th Annual World Food Champion, the Heisman Trophy winner has his eyes set on making Food Sport history at WFC 2018.
Since retiring from professional sports, Jackson has shifted his competitive spirit into philanthropic efforts and entrepreneurial pursuits. Over the years, he has been very successful in many different business ventures. From opening his own sports complex to creating his very own gourmet line of burgers, Jackson puts his champion efforts and spirit into all of his projects.
In addition to becoming the sponsor for the 2018 burger division, Bo's Burgers will become the official burger of WFC. The former NFL and MLB athlete's burgers are offered in a variety of gourmet flavors. From the Angus Grandslam burger made of fresh Angus ground beef, to his signature line of seafood-inspired "Sideliners" by Bonamar Corp.
"Throughout his career, Bo has experienced some of the most renowned sports arenas in the world. But he's never felt the heat of our Kitchen Arena, so I can't wait to see him in action at the heart of Food Sport," commented Mike McCloud, president and CEO of WFC. "I know our competitors are looking forward to getting their hands on Bo's premium burger line to create some truly unforgettable culinary creations."
Bo's Burgers will also be launching an online recipe contest to qualify potential WFC competitors for the 2018 Burger category. More info on Bo's All-American Burger Battle will be released later this summer.
In addition to getting to work with Bo's Burgers in the tournament, all burger contestants at WFC this year will get a chance to meet Jackson at a special VIP reception (details to be released through the WFC competitor portal).
"I have competed at the highest level in sports, with some of the best athletes on the planet. Now I have turned my attention to working with and creating food products for the most talented chefs and home cooks in the business," said Jackson, founder of VEJ Holdings, LLC."I can't wait to see what incredible recipes WFC's competitors serve up at this year's championships using Bo's Burgers."
To learn more about Bo Jackson's Signature Foods, visit www.bojacksonsignaturefoods.com or follow the all-star brand on Facebook (@bojacksonsignaturefoods), and Twitter (@BoJackson34Food).
WFC's Main Event is scheduled for Nov 7 - 11 at the Wharf in Orange Beach, Alabama. Stay tuned for more partner announcements about WFC 2018. To keep up with all WFC news, follow World Food Championships on Twitter (@WorldFoodChamp), and Facebook or Instagram (@WorldFoodChampionships)
« Back to News