Gulf Shores & Orange Beach Tourism Will Host 7th Annual "Ultimate Food Fight"
Share:
Posted May 7, 2018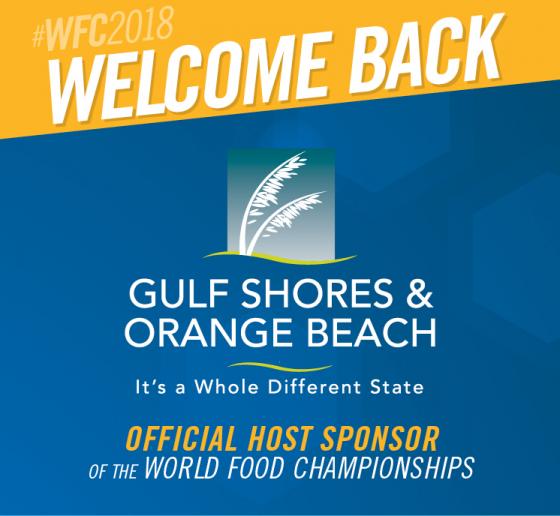 Dates for the 2018 World Food Championships (WFC) — which will be hosted by Gulf Shores & Orange Beach Tourism for the third year in a row — were announced and confirmed today. Live-fire action for the "main event" will begin on Nov. 7 and last for five full days, as hundreds of chefs and cooks from around the world will descend upon beautiful Orange Beach, Alabama in their quest to win the 7th annual "Ultimate Food Fight."
Competitors will navigate three unique cooking challenges in the world's largest outdoor kitchen arena in the quest for more than $300,000 in cash and prizes. The championship, which is presented by Walmart, will feature ten categories of competition and numerous ways for consumers to join in on the actual competition judging - which featured more than 8,000 dishes last year!
The 2017 championship attracted more than 1,500 competitors from 42 states and 13 countries to The Wharf (www.alwharf.com), a resort destination with a full-service marina, retail, dining and entertainment options anchored by a multi-use event center and a 10,000-seat amphitheater. The Wharf will once again serve as ground zero for the biggest cooking challenge in the world.
More than 30,000 attendees are expected to return to the event again this year, which will feature a free entry process for anyone with the Walmart app on their phones. Fan favorites like the Tasting Village and VIP sampling will return in 2018, while new features will include a New Product Expo, Grill-A-Rena and BBQ Beach area.
"Food sport proved to be an extremely popular addition to our sports events mix last year," said Vice President of Sales & Sports Beth Gendler. "Sports competitions have truly diversified our destination, and this ultimate food fight helps us diversify even further."
In addition to family fun and countless food options, WFC offers a great way to support local charities. Last year, WFC raised over $26,000 for charities and donated 14,000 pounds of food to local food banks.
"Orange Beach has truly embraced Food Sport and our competitors with open arms," commented WFC CEO and President Mike McCloud. "For the past three years, this community has supported us in tremendous ways and has made our event feel like a homecoming for Food Champs."
In addition to being the host destination for WFC's main event, Gulf Shores & Orange Beach Tourism will also help potential Alabama competitors qualify for the event through their own unique online recipe contest.More details on the contest will be released this summer.
"The World Food Championships strongly and very positively impacted room nights and the number of people visiting our community during the fall shoulder season," Gendler said. "Competitors and their families told us over and over how welcomed they felt on the Alabama Gulf Coast, how surprised they were by our beaches and all the things to do here, and they can't wait to come back for the next competition!"
Gulf Shores & Orange Beach Tourism welcomes more than 6 million individuals to the Alabama Gulf Coast each year for vacations, family reunions, meetings and sporting events. Marked by its 32 miles of sugar-white sand beaches, deep-sea fishing and countless family attractions, the Gulf Shores and Orange Beach area is one of the world's leading beach destinations. Centrally located along the Gulf Coast, and a short drive from airports in Pensacola, Fla. and Mobile, Ala., the area's lodging properties are ideal for beach-side access or inland retreats that are both convenient and affordable. An array of restaurants, fishing, golf, shopping, and nature and adventure-based excursions add to its popularity.
Stay tuned for more partner announcements about WFC 2018. To keep up with all WFC news, follow World Food Championships on Twitter (@WorldFoodChamp), and Facebook or Instagram (@WorldFoodChampionships)
« Back to News