WFC's Bacon Category Sponsor is Good as "Gold"
Share:
Posted May 3, 2018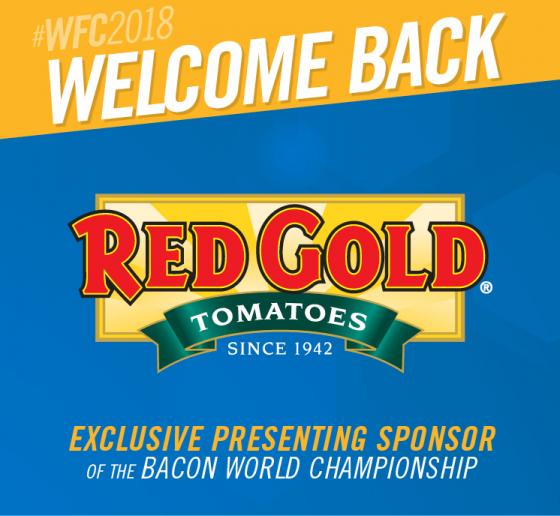 The World Food Championships is adding Gold to its competition and prize purse in 2018 – Red Gold, that is. WFC proudly announced today that Red Gold Tomatoes will return to Orange Beach, Ala., in November as sponsors of the event's 2018 Bacon Category.
For three years, Red Gold has been involved in many areas at WFC, including providing tomato products for the on-site pantry, sponsoring the Sandwich Category and offering samplings to attendees in Tasting Village.
"We are so excited to continue this great partnership," said Mike McCloud, President, and CEO of WFC. "It's outstanding partners like Red Gold Tomatoes that help us define and develop Food Sport each year, bringing more support and creative challenges to the table for passionate cooks!"
This Indiana-based manufacturer of premium quality tomatoes will also participate in WFC's online recipe qualifier, Taste of America, giving chefs and home cooks a chance to show off their creations and earn a coveted Golden Ticket.
In addition to being featured in Taste of America, Red Gold will also help potential hopefuls qualify for the event through their own Online Recipe Contest.The winner will represent Red Gold Tomatoes at WFC, where $10,000 is up for grabs as the champion of the bacon division, as well as a seat at WFC's Final Table for much more. In 2017, Acie Vincent, qualified through Red Gold's Online Contest before going on to win the Sandwich category title at the main event.
"We are so excited to be back for another year," said David Halt, Red Gold's Divisional Vice President of Food Service Sales. "We can't wait to see what incredible recipes WFC's competitors serve up at this year's championships."
The 7th Annual WFC, presented by Walmart, will be held Nov 7-11 at The Wharf in Orange Beach, Alabama. Stay tuned for more Food Sport developments at WFC by following our social media, including other structure builds and infusions that will be released in sponsor announcements over the next several months. For all WFC updates, follow World Food Championships on Twitter (@WorldFoodChamp), and Facebook and Instagram (@WorldFoodChampionships).
About Red Gold
Red Gold (www.RedGoldFoods.com) has been producing premium quality tomato products for 75 years. Red Gold produces premium quality canned tomatoes and tomato-based products for retail, foodservice, private brands, and club stores. The Red Gold family of consumer brands includes Red Gold, Redpack, Tuttorosso, Huy Fong, and Sacramento. Exceptional quality and operational excellence are the shared values that contributed to the employee-created mission statement: "To produce the freshest, best tasting tomato products in the world".
« Back to News