Memphis Home Cook Wins $100,000 Prize Purse at World Food Championships Final Table
Share:
Posted Apr 23, 2018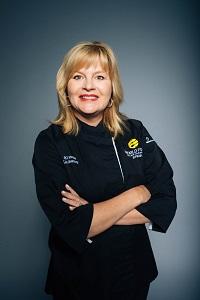 The World Food Championships crowned a home cook as its 6th annual World Food Champion on Sunday, April 22, in Bentonville, Arkansas.
Lisa Gwatney from Memphis, Tennessee beat out nine other category champs to claim the coveted food crown at the World Food Championships Final Table which was presented by Walmart. Gwatney's $100,000 prize-winning steak dish, "The Last Supper," featured a Wagyu Ribeye Filet, grilled and seared, topped with truffle butter sauteed mushrooms, seared Fois Gras, and an Amarone reduction.
"I just feel so humbled and honored to even be able to share the stage with my fellow competitors," commented the newest World Food Champion, Gwatney. "I didn't expect to win at all. I was looking around the room at what everyone was producing and I would have been completely fine with whomever would have won. We've all become such close friends since the main event in November."
The most exciting part of winning the ultimate food fight for the Memphis home cook isn't the $100,000 prize pack, she said, but the opportunity the competition gives her to communicate her message of family and food to the masses.
"I do a lot of food competitions throughout the year but there's no other competition like the World Food Championships," said Gwatney. "The biggest part for me isn't the money, it's the platform that it gives me. When I compete I always cook like I'm cooking for my family. I want to share the importance of sitting down and having a meal with the ones you love."
The ten competitor dishes were scored by a panel of celebrity judges made up of Walmart Senior Vice President, Shawn Baldwin, two sport ex pro-athlete, Bo Jackson, celebrity chef, Katie Dixon, venture capitalist, Mart Massey and legendary pitmaster, Moe Cason.
This is the first time in the six-year history of WFC that the Final Table event has been held separate from the main competition. The strategic decision to hold the final face-off between the category champs was an effort to elevate "Food Sport" and give the category champs a chance to prepare one-of-a-kind culinary creations.
"I believe this has been most successful Final Table in the six-year year history of WFC," said Mike McCloud, President, and CEO of the World Food Championships. "The talent and passion these ten champions demonstrated during the competition truly showcase what Food Sport is all about."
The search for the next World Food Champion will start all over again at The Wharf in Orange Beach, Alabama November 7 - 11, with the Final Table, once again happening separately in the Spring. Stay tuned for more partner announcements about WFC 2018. To keep up with all WFC news, follow World Food Championships on Twitter (@WorldFoodChamp), and Facebook or Instagram (@WorldFoodChampionships)
« Back to News