Gotham Steel Returns to WFC as Official Cookware Partner
Share:
Posted Apr 13, 2018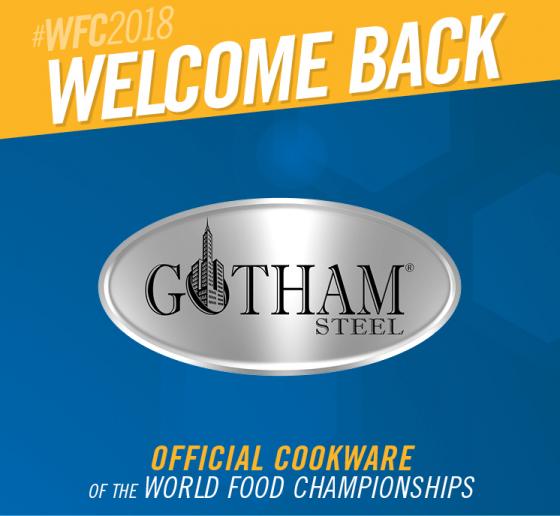 The World Food Championships announced today that Gotham Steel, a company featuring the newest technology in non-stick cookware, will be returning to the world's largest Food Sport event as its Official Cookware Partner for 2018.
For the second year in a row, this "made-to-cook-easy" company will be providing each cooking station in WFC'S Kitchen Arena with a 7-quart pot, 5-quart pot, 3-quart pot and 12.5" pan, all with custom lids! Through its partnership, Gotham Steel hopes to help reduce some of the stress that comes with competing in the world's largest Food Sport tournament. With a complete set of the easy-to-clean cookware on hand, competitors will be able to focus more on perfecting their entry dish recipe and less about packing the appropriate kitchen utensils.
"We are thrilled to have Gotham Steel back as our cookware partners for 2018," commented Mike McCloud, President, and CEO of the World Food Championships. "Last year their partnership helped us and our competitors reach a new level of efficiency and performance in Kitchen Arena. I know their products will continue to be an asset and big advantage for Food Sport this year."
In addition to fully stocking Kitchen Arena with their premium pots and pans, Gotham Steel will be providing a new gift set of its products to each of the category champions. WFC attendees will also get the chance to learn more about the multi-culinary use of their products at demonstrations held throughout the week of competition.
"We are so excited to be returning as the Official Cookware Partner for the World Food Championships," said Marvin Levy from Gotham Steel. "We can't wait to see what dishes WFC's talented field of Food Sport competitors serve up using our products at this year's tournament."
To learn more about what products Gotham Steel has to offer, click here.
Stay tuned for more partner announcements about WFC 2018. To keep up with all WFC news, follow World Food Championships on Twitter (@WorldFoodChamp), and Facebook or Instagram (@WorldFoodChampionships)
About Gotham Steel:
Gotham Steel is the newest technology in non-stick cookware made with ceramic and super strong titanium. Cooking with Gotham Steel is like cooking on air! Everything slides right off! To see what products Gotham Steel has to offer, visit their site at www.gothamsteel.com.
« Back to News