Springer Mountain Farms Returns as WFC's Official Chicken Sponsor
Share:
Posted Mar 13, 2018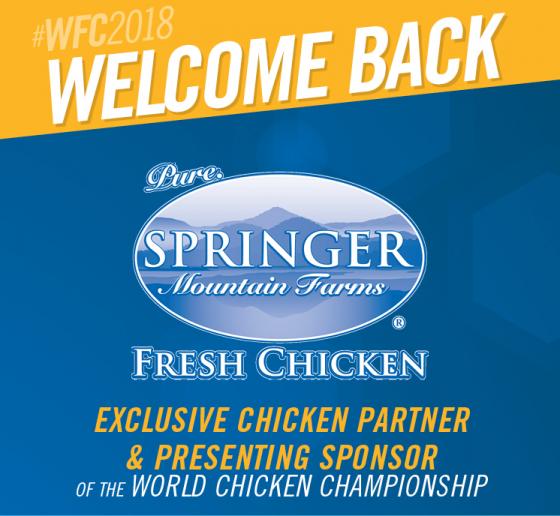 WFC announced today that Springer Mountain Farms will be returning to the world's most prominent Food Sport stage as the Official Chicken Sponsor for its championships in Orange Beach, Alabama, in November.
The Mt. Airy, Georgia-based poultry producer' successful debut at last year's championships prompted WFC to make Chicken an official category for the 2018 competition, replacing the recipe division. Springer Mountain Farms chicken will be used exclusively in the structured round and Top 10 final to determine which competitor will go on to the Final Table for a chance to win the $100,000 prize purse.
"We are thrilled that chicken has been named an official WFC category for 2018 and we are honored to be its' first presenting sponsor," commented Dale, Faunce, director of marketing at Springer Mountain Farms. "We are looking forward to continuing to share our story and quality products with the Food Sport industry."
Springer Mountain Farms is the first poultry company in the world to be American Humane Certified by the American Humane Association, the longest running child and animal welfare organization in the nation. The pride themselves on producing the most delicious, purest, and most nutritious chicken possible. In November, competitors will use the 100% natural poultry product to create a mouth-watering chicken parmesan dish in their structure build round. In the infusion round of competition, cooks will be tasked with turning up the heat to incorporate the required ingredient, hot sauce, into their entry.
"We are honored to have Springer Mountain Farms join us again for another exciting year in Food Sport." commented Mike McCloud, CEO of World Food Championships. "Supplying quality products like Springer Mountain Farms to our competitors equips them to make incredible, fresh and delicious dishes as they try to create the best dishes of their lives."
Leading up to the main event, Springer will also be awarding the winners of their culinary excellence program, Celebrate the Chef, golden tickets to WFC. The criteria for winning chefs includes culinary technique, innovation, quality of dining experience and community involvement.
For more information on Springer Mountain Farms, please visit http://www.springermountainfarms.com/. Stay tuned for more details about the Structured build and Infusion for Top 10 Finals in the Chicken category. To keep up with all WFC news, follow World Food Championships on Twitter (@WorldFoodChamp), and Facebook or Instagram (@WorldFoodChampionships).
About Springer Mountain Farms:
Built on strong values and family farms, Springer Mountain Farms® is a Mt. Airy, Georgia-based poultry producer promising the healthiest, most flavorful and top quality chickens on the market. It is the first poultry company in America to be certified by the American Humane Association for the humane treatment of chickens. Springer Mountain Farms® chickens are raised on pesticide-free vegetarian diets without the use of antibiotics, steroids, growth stimulants or hormones. To learn more about Springer Mountain Farms®, visit SpringerMTN.com and connect on Facebook, Twitter @SMFchicken, and Instagram at @SMFchicken.
« Back to News