Cowboy Charcoal Releases More Details & Opens Registration for 2018 Fire & Ice Women's Barbeque Series
Share:
Posted Mar 1, 2018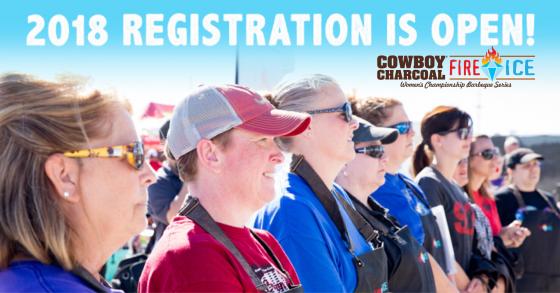 WFC previously announced the return of the Cowboy Charcoal Fire & Ice Women's Championship Barbeque Series, which will culminate at the world's biggest food fight. This year brings some new twists and turns to help heat up the series for its 3rd Season. The new additions include MORE ways to qualify for this year's championship and charitable donations that will certainly fire up the lady pitmasters along the way. Here's what you can expect for the 2018 ladies-only barbeque series.
This year Cowboy will award the TOP FIVE highest scoring lady pitmasters in the KCBS POINTS CHASE* a finalist spot at the WFC championship. New to this year's qualifying process is the introduction of a HOT PASS, which allows competitors a chance to go straight into the finals by turning in the highest score for a female at five individual BBQ events throughout the country. Registration for all lady pitmasters who would like to participate in this 3rd Annual Series — which features more than $30,000 in cash and prizes and $15,000 in donations — will begin March 1, 2018 and end May 31, 2018.
The first HOT PASS will be awarded on March 8 at the IBCA-sanctioned TURN N' BURN event in Pleasanton, Texas. Here are the remaining qualifying Hot Pass** events:
April 20-21 - Suncoast BBQ and Bluegrass Bash - Venice, Florida

May 16-19 - Memphis in May - Memphis, Tennessee

Sept 13-16 - American Royal - Kansas City, Missouri

Stay tuned for 5th and final HOT PASS event to be announced!
The ten finalists from the points chase and hot pass events will face-off in a two-round finale competition in November at the World Food Championship in Orange Beach, Alabama. After a fiery two-day competition, Cowboy Charcoal will name its 3rd Annual Fire & Ice Grand Champion. The winner will take home a $10,000 prize pack, including some signature jewelry (the "ICE") provided by Manning Jewelry out of Fairhope, Alabama.
But that's not all. Cowboy upped the ante in 2018 by adding an opportunity to earn up to $15,000 in additional prize money for a female pitmaster's charity of choice! Ladies will have two ways to make a difference. Cowboy Charcoal will match the Grand Prize earnings of the Fire and Ice Grand Champion with a check for $10,000 to the charity of her choice. Additionally, there will be an opportunity to earn a $5,000 donation to a top 10 female pitmaster's charity of choice by way of a social media contest. Rules for this charity contest will be announced at a later date.
That's a lot to get fired up about, don't ya think!? So good luck Lady Pitmasters! We hope it's a smoky hot and successful season for each of you!
For more information on the Cowboy Charcoal Fire & Ice Women's Championship Barbeque Series, and to register for the competition, please visit,
cowboyfireandice.com.
*Teams participating in the POINTS CHASE are required to be registered and current KCBS members.
**Teams competing in the HOT PASS QUALIFYING EVENTS are NOT REQUIRED to be KCBS members.
« Back to News