2012 World Food Champion
Share:
Posted Jul 13, 2013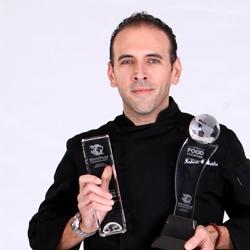 Originally from Las Vegas, Chef Robert Butler has been working in professional kitchens for thirteen years but did not attend culinary school. The various kitchens and influences Butler has had throughout the years, along with hard work and determination, schooled him in the ways of culinary greatness. Chef Butler lists Chef Sam Pollack, Chef David Kellaway CMC and his mother, who was a chef for 30 years, as his greatest culinary influences. Butler has held Chef Positions for MGM Mirage™, Aramark, Station Casinos® and currently Caesars Entertainment® Corporation.
To get to the Final Table, Chef Butler would have to beat a highly skilled World Sandwich Championship field of competitors. Butler's entry would narrowly edge the Beyond Bread team from Tucson, Ariz., to earn his chance at glory.
Chef Butler's sandwich was a crisp, braised pork sandwich with Asian-flavored aioli, lettuce, herb and pear salad with a kim chi vinaigrette, or a "Banh Mi in France," said Butler to make things simple.
"I simply wanted to create something with a 'wow' factor that, although busy with ingredients, worked well together in the end," said Butler.
Butler describes his overall food inspiration as a vision; is what he's making, the best it can be?
"I feel with that mindset you're always pushing to improve and try new things. My food passion is, well, GREAT FOOD!" said Butler.
Butler went on to say with a smile that great wine with great food doesn't hurt either.
Butler is sitting on the clouds now as the inaugural World Food Champion. Having bested over 30 great sandwich cooks and chefs to get to the Final Table, Butler topped all seven category champions and won over the judges to earn his moment of glory. Of over 300 total competitors who competed in the World Food Championships, Butler most skillfully and "tastefully" managed to make his way to the top; an impressive tale to tell for years.
"Although the timeline may not reflect it, but proper planning, solid technique and without a doubt, my teammate Chef Lowell McCain, were the keys to success," said Butler. "I really think it was our different skill sets working together that made the whole thing possible."
« Back to News