WFC Returns To Qualifying Process For 2018 Barbecue Championships
Share:
Posted Jan 17, 2018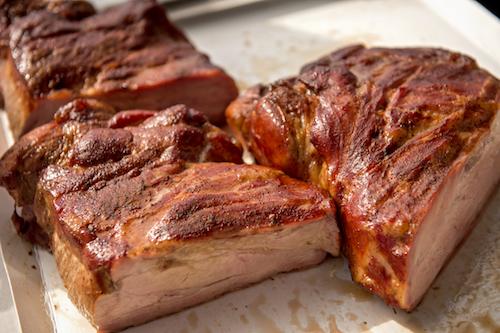 To BE the best, you've got to BEAT the best!
That's why WFC announced today that it is returning to a qualifying process in BBQ that will focus on Grand Champions only.
The 2018 qualifying process will no longer include an "open" registration ability, which was used to obtain KCBS Master Series sanctioning over the past several years. Instead, every single team in the 2018 WFC BBQ Category will have to have a recent Grand Champion victory at a sanctioned contest from October 1, 2017, to August 31, 2018 (the date that all category registrations will close).
The sanctioning bodies that will be used for this qualifying process include the following:
MBN
KCBS (Master's series)
Pacific Northwest BBQ Association
St Louis BBQ Association
FBA
IBCA
SBN (Southern BBQ Network)
SCBA
(Additional sanctioning bodies may petition WFC for consideration.)
As is always the case, the 100 spots will be filled on a first-come, first-registered process starting February 1, 2018. Additional spots in the WFC BBQ Category will be reserved for the 2017 Top 10 finishers, as well as for International Qualifiers, State Partners and other Preferred Qualifiers that will be released in the coming days.
"Every year our competition gets bigger, better and yes, even tougher to win," commented Mike McCloud, President of WFC. "But that's what world-class BBQ teams want. They want to compete against the best. And by opening our system to ANY Grand Champion from ALL of these respected sanctioning bodies, we believe we are preparing for the biggest and best BBQ competition yet."
The type of competition challenge and sanctioning process that will be used at WFC this year will be announced in the coming months. But McCloud promised this, "It will be fair, it will be fun, and it will provide the winner with incredible bragging rights as always!"
« Back to News