Five-Time Competitor Finally Claims World Chef Title
Share:
Posted Dec 12, 2017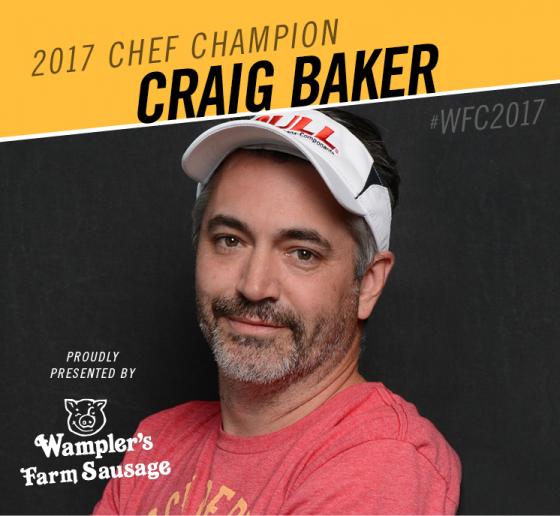 "Go big or go home" is competitor Craig Baker's strategy when it comes to competing in the world's Ultimate Food Fight. Turns out that this Indianapolis restaurant owner did both...as he took home the big prize after executing a "big game plan" in Orange Beach, Alabama, where he was awarded the title of the 2017 World Chef Champion.
Now in its 6th year, the WFC is the largest cooking competition in Food Sport, fielding almost 450 teams and crowning 10 Champions through a live-fire, tournament-style process. The 10 official categories include BBQ, Bacon, Burger, Chef, Chili, Dessert, Recipe, Sandwich, Seafood, and Steak. Competitors come from all types of culinary backgrounds — from home cooks to pro chefs — have taken home almost $2 million in prizes and cash at WFC, proving that the event's E.A.T. methodology is providing a level playing field for Food Sport enthusiasts.
Although Baker is a seasoned WFC competitor, his first encounter with the competition happened by chance.
"The first year I won a golden ticket into WFC was a happy accident," said Baker. "I went to what I thought at the time was a charity event, but it turned out to be a qualifying event for WFC."
Once the Indiana chef got a taste of the action in Kitchen Arena, he was hooked. "I'm an adrenaline junky and the thrill of it was so intense," shared Baker. "I fell in love with it immediately."
Aside from the fierce competition, though, Baker also enjoys the unique compassion that is occurring at WFC. "The comradery among competitors is really something special. I've made some really good friends there," shared Baker. "I've learned so much from other competitors. It really feels like family where everyone wants everyone else to do well."
In his fifth year competing at WFC, Baker took a more unorthodox approach to the competition than in years past. On Wednesday night, after finishing the opening round of the Chef category, Baker and his team were already planning ahead.
"After the opening round we went to the store and started building our top ten dish before we even knew we had made it into the final round," explained Baker. "We invited people over to our condo to try out the dish and we timed ourselves like we were in competition."
Fortunately for Baker, his planning paid-off and his team advanced to the final round of the chef category, sponsored by Wampler's Sausage, where he ultimately took home the prize purse for $10,000 and title of World Chef Champion. For his winning dish, Baker incorporated the required infusion ingredient — Challenge Dairy Cream Cheese — as a main ingredient to create a lightly sweetened, white-chocolate napoleon served with a cream cheese-filled macaron, all paired with strawberries macerated in honey and lime.
"Winning the Chef category was really special because, unlike some of the competitors, I did not go to culinary school. I was up against some of the world's top chefs and highly trained professionals," explained Baker. "I know I'm good at my job, but it's nice to have your hard work validated on such a prominent stage."
Baker will now prepare to battle it out against nine other category champions at WFC's Final Table in April of 2018, where the winner will go home with an incredible $100,000 grand prize package. Baker is not wasting any time celebrating his win, though. Instead, he's getting straight to work preparing for the final competition. In fact, the World Chef Champ has already been testing out potential dishes for Final Table on Indianapolis locals for feedback.
"WFC is like a marathon, it's intense and emotional, but it's the highest of the high," said Baker about the Final Table competition.
Stay tuned to hear more WFC category champs stories as we profile the ten individuals who have earned their way to the Final Table. To review all the 2017 World Food Championship scores and results, visit https://worldfoodchampionships.com/scoresor like the event's Facebook page.
« Back to News