Home Cook's Win Fulfills Late Mother's WFC Dream
Share:
Posted Dec 9, 2017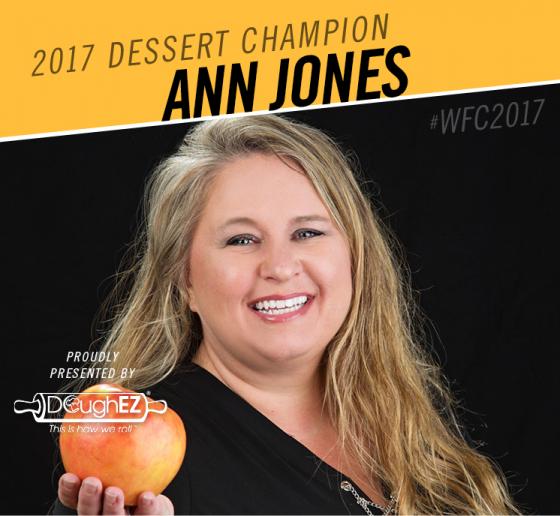 Ann Jones experienced a sweet victory at the World Food Championships last month in Orange Beach, Alabama as she took home the World Dessert Championship title. But the story doesn't end there. In fact, it's even richer than the prize purse that she earned in the process. Turns out that it was a family victory of the sweetest kind.
Celebrating its 6th anniversary, WFC featured 450 culinary teams from 13 countries and more than 40 American states. This event is the only cooking competition where home cooks go head to head with professional chefs. Winners were crowned after a tournament-style process in ten food categories: Barbecue, Chef, Chili, Burger, Sandwich, Recipe, Bacon, Dessert, Seafood, and Steak.
Jones, a seasoned WFC competitor, opted to be a part of the first-ever Elite Wild Card division at the World Food Championships. For the first time in its six-year history, WFC gave its competitors an opportunity to purchase a $1,000 Elite Golden Ticket that would allow the ticket holder to skip the qualifying process. Rules were simple. The Elite tickets were made available to the first 20 competitors who purchased. This wildcard entry allowed Jones to bypass the qualifying process, be able to select her preferred category (dessert) of competition, represent any brand or corporation, and automatically advance to compete for the Main Event in Orange Beach, Alabama. Jones, in addition to her category prize pack of $10,000, took home "bonus" money from the Wild Card division, the first time that this prize purse has been available at WFC.
Jones' mother, Rebecca Reece, was an avid cooking competitor and was the reason she began competing in WFC.
"In 2014, my mother told me about WFC and how it was her dream to compete in it. She entered multiple events to try and qualify," shared Jones.
Sadly, ten days after she shared the exciting news with her daughter that she qualified for WFC, Reece was diagnosed pancreatic cancer. Unfortunately, Jones' mother health declined rapidly making her unable to compete. At that point, Jones, her sister, and her Aunt stepped in to take her mother's place.
"In 2014 when we subbed in for my mother, that was the first time we ever did anything like that as a family. We had so much fun together," said Jones. "Now every year the WFC brings us together again to compete in my mother's honor."
What recipe was it that finally landed Jones the category title? Her mother's Apple Dutch Pie recipe, of course. Jones made the final round dish using the infusion ingredient, Michigan Apples, and her mom's original recipe. The classic dish served the "Mom" team well in their fourth year competing together, as they were finally crowned the winner of the Dessert category, which was presented by Dough EZ.
"Winning this year is super personal for me and my family. This was my mom's dream and I know she would be so proud," tells Jones. "We cooked for her and this was the best possible way to honor her."
Jones will now prepare to battle it out against nine other category champions at WFC's Final Table in April of 2018, where the winner will go home with an incredible $100,000 grand prize package.
Stay tuned to hear more WFC category champs stories and find out who serves up the best dish at Final Table to take home the overall grand prize. To review all the 2017 World Food Championship scores and results, visit
https://worldfoodchampionships.com/scores
or like the event's
Facebook page.
« Back to News