The World Steak Champion That Almost Didn't Compete
Share:
Posted Dec 6, 2017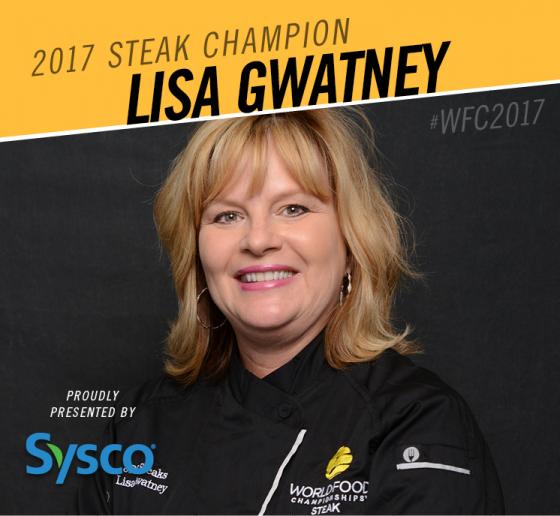 ORANGE BEACH, Ala. -- Raised in a big Italian family where food was at the heart of everything, home cook Lisa Gwatney is quite comfortable in the kitchen. However, competing in the largest Food Sport competition proved to be quite intimidating for the Memphis, Tenn., native. So intimidating in fact, she almost didn't compete at all.
That would have been a $10,000 mistake.
The World Food Championships was held this November at The Wharf in Orange Beach, Ala. Now in its 6th year, the event is the only cooking competition where home cooks go head to head with professional chefs. Winners are selected tournament-style in ten food categories: Barbecue, Chef, Chili, Burger, Sandwich, Recipe, Bacon, Dessert, Seafood, and Steak. After qualifying through regional and international competitions or online recipe contests, WFC participants cook two dishes for the chance to move on to the Top Ten round in their category. The top score takes home a $10,000 prize purse and the bragging rights as champion of their division. Dishes are evaluated by certified judges using the WFC's proprietary EAT (Execution/Appearance/Taste) criteria to determine who will advance to the Final Table challenge to compete for the grand prize of $100,000.
This was Gwatney's first appearance at the World Food Championships, as she made it into the competition by the winning "Que on the Yazoo Steak Cookoff" ancillary contest in Greenwood, Miss. Winning a "Golden Ticket" to the world's biggest food fight was extremely exciting for the self-taught home cook, but nerves quickly took over after she realized the magnitude of the international competition.
"I almost I didn't go because I was too intimidated after seeing the promo videos online. I thought there's no way I could compete with that level of talent," said Gwatney. "I didn't even submit my recipe until the deadline, that's how sure I wasn't going to compete." Luckily for Gwatney, her husband convinced her it was something she should take part in by posing the question "what's the worst that could happen?"
In the first rounds of competition, Gwatney's dishes landed her the eighth spot in the Top Ten. Heading into the final round of the steak category, sponsored by Sysco Foodservice, she knew clawing her way to the top of the pack would be no easy task. But she was determined.
"Going into the final round I told myself I have to cook better than everyone else plus two points," said Gwatney. With the seconds to spare she turned in her seafood topped steak dish infused with the required ingredient, Kenya Bingwa Estate AA from Demours Coffee. "I said going into the final round I wanted to cook like this was food I was making for friends and family. When I noticed the steak wasn't quite cooked to perfection I put it back in. My husband thought I was crazy for putting it back in, but I told him 'I'm not turning it in unless it's right,' recalls Gwatney. "If I wouldn't serve it to my loved ones then I'm not going to submit it to the judges." Her cooking strategy paid off as she jumped seven places to be awarded the $10,000 prize pack and the title of World Steak Champion.
Gwatney also earned a trip to the Final Table that is set to take place in April 2018. There she will battle the nine other category champs and one will walk away with the grand prize of $100,000 and be crowned the 2018 World Food Champ. For this WFC rookie, winning is less about the financial gain and more about the potential opportunity to live out her passion. "This has been my dream since I was just a girl cooking with my grandma, to be able to do something that I have a true genuine passion for," said Gwatney. "Even though going to the Final Table could mean winning $100,000 it's about far more than the money; it's about the opportunity to live out my dream."
Stay tuned to hear more WFC category champs stories and find out who serves up the best dish at Final Table to take home the overall grand prize. To review all the 2017 World Food Championship scores and results, visit https://worldfoodchampionships.com/scores or like the event's Facebook page.
« Back to News