Port Aransas/Mustang Island Join Food Sport With First WFC State Franchise
Share:
Posted Dec 1, 2017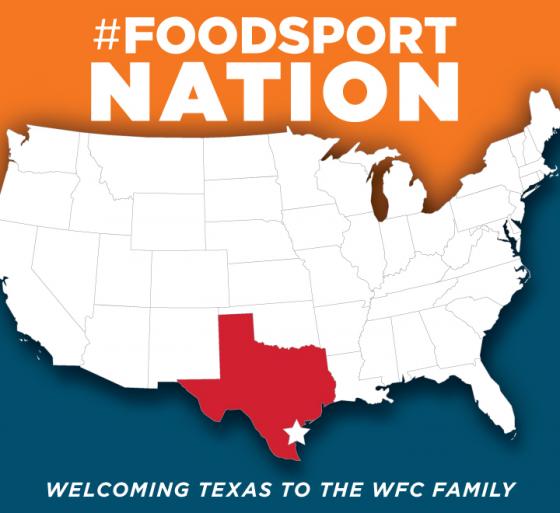 World Food Championships announced today that it has entered into its first state franchise agreement with the City of Port Aransas in Texas.
"We are very excited about this new partnership and expansion of WFC with the great folks and City of Port Aransas," commented Mike McCloud, President and CEO of WFC. "While they continue to recover from Hurricane Harvey, one thing has not changed about Port A – their passion and support for building a great culinary destination. We look forward to helping them revitalize their culinary scene with Food Champ competitions and attractions of numerous types in the coming years."
The agreement marks a new chapter for WFC as it begins expanding through state programs that will focus and unify the qualifying process for cooks and chefs trying to earn their way into the Ultimate Food Fight. As a result, all residents from the state of Texas who want to compete at WFC will have to attend a competition in Port A, or win through a qualifying event that is part of the Port A franchise.
"This will put Port A on the competition map for all things WFC related," McCloud stated. "From events that are certified by Port A, to EAT classes that will be organized in Texas — all WFC activities will now funnel through our new franchise partner."
Over the last several years, Port Aransas on Mustang Island has become one of the Top Foodie Beach Destinations in Texas and the United States. "We are elated to be the exclusive Texas partner for the World Food Championships venerable brand, and to also host the State Qualifier event for the WFC in the years to come," expressed Jeffrey Hentz, President and CEO of Port Aransas / Mustang Island Chamber of Commerce & Tourism Bureau. "With our recovery from Hurricane Harvey well underway, having the opportunity to partner with a first-class organization like WFC is truly a blessing for our destination and community."
McCloud pointed out that the two exemptions to this new Texas franchise will be the Taste of America online recipe contest, and any Texas resident who already earned a Golden Ticket by performing well at WFC 2017. Those possibilities include a category championship, a Top 10 performance, or placing in the top three at the WFC Super Qualifier.
"We are thrilled to be joining Food Sport and helping build the new WFC Team Texas as part of our culinary scene in Port A," commented Hentz. "We already have some fantastic Food Champs in our midst, and we can't wait to invite others to come see what's so special about this community in 2018 and beyond."
Texas represents one of the top three competing states in WFC history. With more than 100 contestants over the past five years, Texas residents have always shown great culinary talent and performed well. Now, they will be able to join forces through a formal Team Texas process that will no doubt become a formidable force at each year's championship.
More information about qualifying rules and events for the new Port Aransas process — including how Team Texas will be supported with travel stipends — will be released in early 2018. To find out more about the World Food Championships and this year's reigning food champs, visit www.worldfoodchampionships.com.
###

About WFC

The 6th Annual World Food Championships (www.WorldFoodChampionships.com) featured 450 culinary teams from 13 countries and more than 40 American states. The event, which provides a level playing field for home cooks, pro teams and chefs, uses a tournament-style format to narrow its field to 10 category champions. With three national TV programs since its inception and almost $2 million awarded in cash and prizes, WFC is the largest and fastest growing platform in Food Sport for aspirational culinary artisans that are seeking fortune and fame. Having just completed its main event in Orange Beach, Alabama, WFC will now take its Top 10 Category Champions through one more challenge in April to see who will win the event's prestigious Final Table and a $100,000 prize purse. For all WFC updates, follow World Food Championships on Twitter (@WorldFoodChamp), and Facebook and Instagram (@WorldFoodChampionships).
« Back to News