The Ultimate Food Fight Takes On Food Allergies
Share:
Posted Nov 21, 2017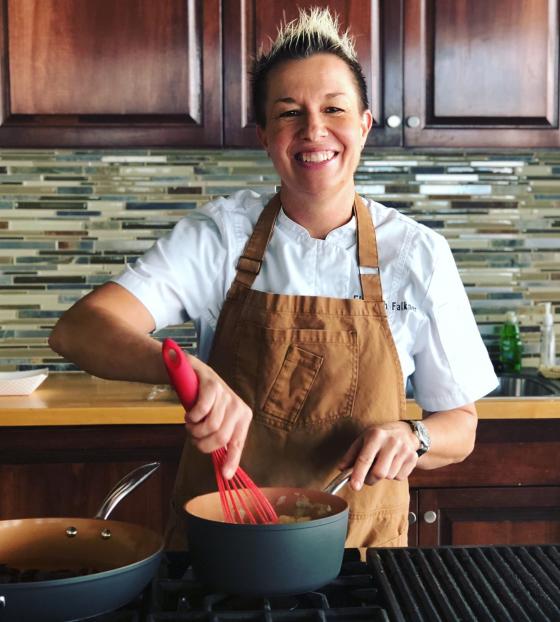 What if going out to dinner was a life or death experience? This scenario is a real-world concern for more than 6 million Americans living with life-threatening food allergies.
Allergy & Asthma Network, the nation's leading patient advocacy organization for those living with allergies, asthma and related conditions, partnered with DBV Technologies to host a half-day program on Addressing Allergies in the Food Service Industry in during the 6th Annual World Food Championships in Orange Beach, Ala.
The event included educational sessions by leading experts in the field, Dr. Ruchi Gupta of Chicago and Dr. Michael Pistener of Boston. In addition to the panel discussion, an interactive cooking demonstration was provided by celebrity chef Elizabeth Falkner. Chef Falkner focused on how to easily substitute for the top eight food allergens (milk, egg, peanut, tree nut, fish, shellfish, wheat, soy) for the chefs who participated. Making the comparison that cooking for individuals with food allergies is similar to the "curve balls of TV cooking" she has witnessed over the years.
"You might as well have fun with it because this is a reality. People do have serious food allergies and we've got to learn ways to deal with it in the foodservice industry," said Falkner.
The half-day program addressed burning questions about what caused this sudden surge of food allergies. In fact, Dr. Ruchi Gupta pointed out that, "Food allergies are on the rise and we do not know exactly why; however, we do know that the anxiety and fear many face around dining out limits their life significantly."
The panel also covered hot topics such as the prevalence of life-threatening allergies; the psychosocial impact of dining out; the top 8 food substitutions; and helpful tips on how to avoid cross-contamination in the kitchen. "It takes the two pillars of awareness and preparedness to ensure food allergic patrons can dine out safely," said Dr. Pistener.
The goal was to leave attendees walking away with a better understanding of what a food allergy truly is and how food service staff can support patrons by reducing risk and addressing patrons' fears and anxieties.
"This program was a first in partnering with the world's largest Food Sport competition to highlight the importance of food allergies," said Tonya Winders, CEO of Allergy & Asthma Network, moderated the event and shared. "We look forward to future opportunities to elevate this issue and find solutions to help individuals who struggle with food allergies.
To find out more about The Allergy & Asthmas Network and the causes of food allergies visit allergyasthmanetwork.org. To view clips from the World Food Championships and the allergy cooking demonstration with Chef Falkner visit www.facebook.com/worldfoodchampionships.
###
Allergy & Asthma Network is the leading nonprofit patient education and advocacy organization for people with asthma, allergies and related conditions.
The World Food Championships (www.WorldFoodChampionships.com) featured more than 450 culinary champions seeking food fame and fortune. The sixth annual event, which occurred Nov. 8-12, 2017 at The Wharf in Orange Beach, Alabama, is comprised of 10 category championships that award chefs and cooks with hundreds of thousands of dollars in cash and prizes. The Top 10 performers in the field move on to a high-stakes Final Table event in April 2018 for the ultimate bragging rights and a $100,000 prize purse. For all WFC updates, follow World Food Championships on Twitter (@WorldFoodChamp), and Facebook and Instagram (@WorldFoodChampionships).
« Back to News