The Hansen Group and Welbilt Join WFC to Showcase Innovation & Food Champs
Share:
Posted Sep 12, 2017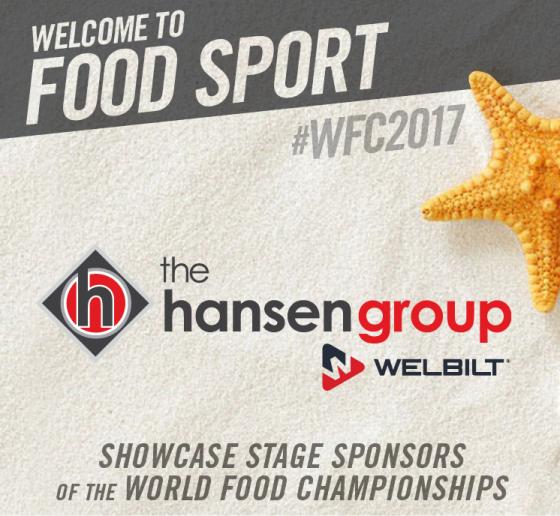 ORANGE BEACH, Ala. (September 12, 2017) -- WFC announced today that The Hansen Group and Welbilt are joining the Food Sport movement to highlight innovation and foodservice excellence at this year's sixth anniversary in Orange Beach, Alabama from November 8-14.
The two companies, which provide the world's top chefs and premier chain operators with industry-leading equipment and solutions, will be sponsoring the WFC Showcase Stage, where Food Champs will be entertaining and educating foodies throughout the four primary days of the event.
Thanks to this new partnership, Showcase presenters will be able to use quality restaurant and professional-grade equipment provided by The Hansen Group and Welbilt, including the latest innovations from companies like Hamilton Beach Commercial, Bauscher, Lincoln, Multiplex, MerryChef and more.
"Providing free culinary insights and tips from professionals at our Showcase stage is one of the many highlights of WFC," commented Mike McCloud, President and CEO of WFC. "The support of The Hansen Group and Welbilt is a tremendous addition to our efforts, as they truly are leaders in the equipment and foodservice side of this industry."
Welbilt's cutting-edge designs and lean manufacturing tactics are powered by deep knowledge, operator insights and culinary expertise. All of their products are backed by KitchenCare® -- their aftermarket, repair and parts service.
In addition to great equipment, The Hansen Group and Welbilt partnership will enable WFC to showcase its most robust line up of talent and demos to date. Just to name a few, they include Food Network competitor and young cook Tyra Jefferson, who will be sharing her "Southern Bold with a Flair and Flavor Twist" cooking style; WFC Seafood competitor, Chef Jonathan Scinto, who will demonstrate "Itasian Cuisine" -- a fusion of Italian and Asian influences; and WFC Dessert competitor and ABC's "The Great Holiday Baking Show" winner, Lauren Katz, as she showcases "Fondant and Cake Sculpting from 2D to 3D" using DoughEZ products.
For a complete list of brands represented by Welbilt, click here. Click here to view The Hansen Group's finest companies.
To stay connected to Food Sport news and the Food Champs who excel in the annual event, follow World Food Championships on Twitter (@WorldFoodChamp), and Facebook or Instagram (@WorldFoodChampionships).
About The Hansen Group
Celebrating 60 years, The Hansen Group is dedicated to professional, ethical representation for manufactures of food service equipment and supplies. The company associates with manufactures who align with its business principles and practices by marketing and selling its products to wholesale dealers and distributors. The company offers its dealers high quality sales contracts with restaurant chains, clubs, hospitals, schools and prisons by providing knowledge and assistance in using these products. The Hansen Group is headquartered in Atlanta and serves customers in Georgia, Tennessee, Alabama and the Florida panhandle.
About Welbilt, Inc.
Welbilt, the global leader in professional foodservice equipment and systems, has a mission to create value for customers, employees and shareholders by integrating food, technology and people to build and deliver the highest quality, innovative products and systems, offer best-in-class global service and enable healthy and safe food experiences. Headquartered in the Tampa Bay area, Florida, and operating 17 manufacturing facilities throughout the Americas, Europe and Asia, the company sells through a global network of over 3,000 distributors and dealers in over 100 countries. The company has approximately 5,500 employees and generated sales of $1.46 billion in 2016. Its portfolio of award-winning brands includes Cleveland™, Convotherm®, Delfield®, fitkitchenSM, Frymaster®, Garland®, Kolpak®, Lincoln™, Manitowoc® Ice, Merco®, Merrychef® and Multiplex®. For more information, visit www.welbilt.com.
About the World Food Championships
The World Food Championships (www.WorldFoodChampionships.com) features 500 culinary champions seeking food fame and fortune. The sixth annual event, scheduled for Nov. 8-14, 2017 at The Wharf in Orange Beach, Alabama, will conduct 10 category championships before culminating in a high-stakes Final Table showdown for hundreds of thousands of dollars in cash and prizes. For all WFC updates, follow World Food Championships on Twitter (@WorldFoodChamp), and Facebook and Instagram (@WorldFoodChampionships).
« Back to News