Gunter Wilhelm Sharpens Its Focus On Food Champs
Share:
Posted Sep 7, 2017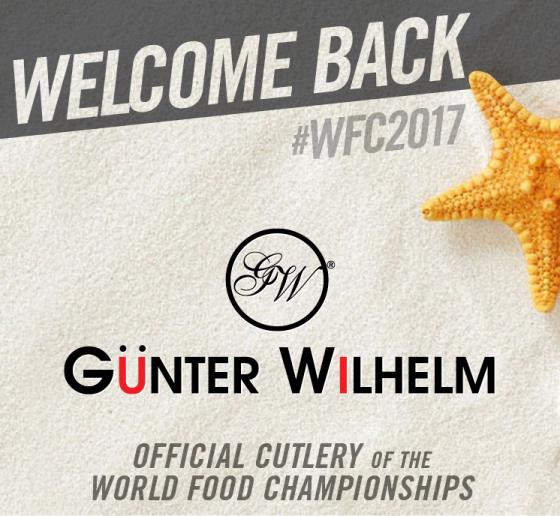 ORANGE BEACH, Ala. (September 7, 2016) – From experience to passion, expert craftsmen have many things in common. That especially holds true with equipment and tools of the trade. And nowhere is this more evident than in Food Sport, where chefs and cooks rely on the best products in the industry to create the best recipes and culinary experiences.
That's why World Food Championships is proud to announce its continued partnership with Gunter Wilhelm, the Official Cutlery of WFC. This German-based company has been a long-time supporter of Food Champs at WFC and has been expanding its presence across all aspects of Food Sport over the past several years.
"As we head into our 6th Anniversary, we're proud to work with great companies like Gunter Wilhelm to keep expanding Food Sport opportunities for world-class cooks and chefs," commented WFC CEO Mike McCloud. "Gunter Wilhelm supports Food Champs in many ways, from an unparalleled warranty to premier craftsmanship and ambassador relationships. Their cutlery is known as the Mercedes in this world for a reason, and we are proud of their association."
The World Food Championships LIGHTNING ProCut collection, like the rest of the Gunter Wilhelm cutlery products, are crafted from premium High Carbon X50CRMoV15 German steel. The 16-piece line features a wide variety of sizes of chef, carving, slicer, filet and utility knives.
Gunter Wilhelm has long been the cutlery brand of choice for many WFC competitors, and the enhanced relationship marks an expansion of the cutlery company's presence within not only the competition, but also the prize package awarded to the event's winners. Each Top Ten category champions – emerging from the Bacon, Barbecue, Burger, Chef, Chili, Dessert, Recipe, Sandwich, Seafood, and Steak competitions – will receive a custom WFC-engraved Gunter Wilhelm chef knife.
Each Category World Champion - the competitors who move on to The Final Table - will be awarded Gunter Wilhelm engraved Chopper knives with the WFC Logo and the champion's winning category.
The overall World Food Champion – the competitor who emerges from the The Final Table challenge – will also receive a full set of Gunter Wilhelm knives and tools valued at more than $1,000.
Additionally, Gunter Wilhelm and World Food Championships has teamed to create a special set of WFC-branded cutlery, available now at WFC's e-Commerce site The Champion's Table and at www.gunterwilhelm.com/wfc. The cutlery will also be available for purchase on-site at the Championships in November.
About Gunter Wilhelm
Gunter Wilhelm®, home of the world's finest professional cutlery and cookware. Their products are used by the iconic White House Chef Tour™, executive, professional and celebrity chefs. They are also used in top-ranked restaurants and by numerous passionate home cooks all over the world. Each Gunter product has a high-performance edge, unique craftsmanship and exclusive features that have become signature elements of the brand. To learn more, visit Gunter Wilhelm online at www.gunterwilhelm.com, on Facebook at www.facebook.com/gunterwilhelm, or follow on Twitter @GunterWilhelm.
About the World Food Championships
The World Food Championships (www.WorldFoodChampionships.com) features 500 culinary champions seeking food fame and fortune. The sixth annual event, scheduled for Nov. 8-14, 2017 at The Wharf in Orange Beach, Alabama, will conduct 10 category championships before culminating in a high-stakes Final Table showdown for hundreds of thousands of dollars in cash and prizes. For all WFC updates, follow World Food Championships on Twitter (@WorldFoodChamp), and Facebook and Instagram (@WorldFoodChampionships).
« Back to News