Biliner Water Splashes Back into Food Sport
Share:
Posted Sep 6, 2017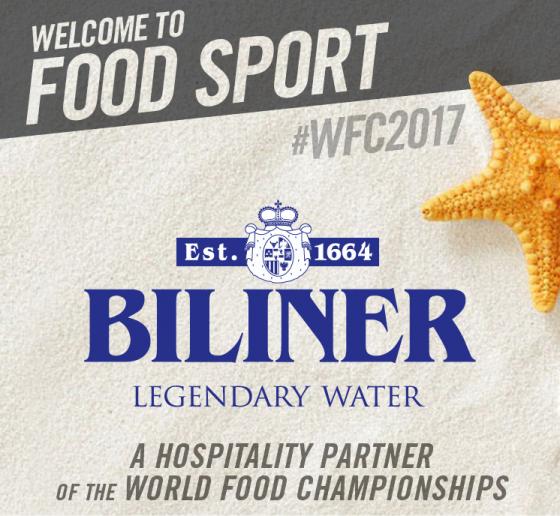 ORANGE BEACH, Ala. – (September 5, 2017) -- WFC announced today that Biliner Legendary Water, the oldest bottled water brand in the world, will be cooling down the heat of the competition as a freshwater partner of the Ultimate Food Fight in Orange Beach, Alabama from November 8-14.
As it did last year, Biliner Water will be providing its freshest alkaline mineral and natural spring water from the Czech Republic to all WFC judges, competitors, volunteers and staff members.
"During WFC, it seems like we can never have enough water on hand, so we're thrilled to welcome such a premium, freshwater partner like Biliner to the table," said Mike McCloud. CEO of World Food Championships. "It's also exciting to see the Czech Republic involved this way, as we look to add more global brands and competitors to our Food Sport family."
Biliner Water was started in 1664 and comes from the heart of the old continent, in the historic town of Bilina, Czech Republic. The rare, natural water became available to the U.S. in 2012.
About Biliner Water
Biliner, which uses the oldest known natural resource of Spring and Alkaline Mineral waters, is untouched by human hands during its bottling process. These waters complement the human body that has a natural PH of 7.4, as Biliner features its own natural PH of 7.4 with nothing added or taken away as nature intended. For more information about Biliner, check out its website. To find out where you can buy Biliner, click here.
About the World Food Championships
The World Food Championships (www.WorldFoodChampionships.com) features 500 culinary champions seeking food fame and fortune. The sixth annual event, scheduled for Nov. 8-14, 2017 at The Wharf in Orange Beach, Alabama, will conduct 10 category championships before culminating in a high-stakes Final Table showdown for hundreds of thousands of dollars in cash and prizes. For all WFC updates, follow World Food Championships on Twitter (@WorldFoodChamp), and Facebook and Instagram (@WorldFoodChampionships).
« Back to News