OZARK RIVER JOINS WFC FOR FOOD SAFETY INITIATIVE
Share:
Posted Sep 5, 2017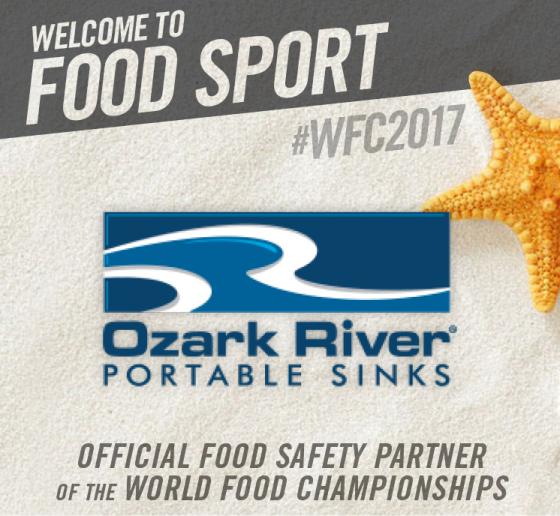 ORANGE BEACH, Ala. -- (September 5, 2017) -- World Food Championships announced today that Ozark River Portable Sinks® is helping bring safety and sanitation to the forefront of Food Sport as the Official Food Safety Partner of WFC.
As part of the agreement, this Tennessee-based company will be providing 20 of its portable hot-water sinks to be used by competitors in Kitchen Arena, as well as consumers in the main arena, for this year's sixth-annual event, scheduled for Nov 8-14th in Orange Beach, Alabama.
Ozark River Portable Sinks® is dedicated to building today's most user-friendly, dependable and economical portable handwashing stations. The sinks produce the perfect amount of water for handwashing. The faucet features a sensible dispense system that streams a half-gallon of water per minute, which safeguards user hands as well as the environment.
"It's important to all of us at WFC to be a leader in Food Sport, especially when it comes to issues like food safety," commented Mike McCloud, President & CEO of WFC. "That's why partnering with safety-driven, compassionate companies like Ozark River to reinforce the importance of clean hands while eating — or preparing — food is going to help us underscore some key initiatives for this industry."
To kick off the relationship, Ozark River® is excited to bring their Hardship & Hope Nomination program to this year's World Food Championship. Hardship & Hope is a giving back initiative that provides a free Ozark River Portable Sink to organizations in need for compliance reasons. Ozark will be accepting nominations of worthy organizations from Food Champs throughout the country on its website at www.theportablesink.com/wfc.
"We are pleased to be the Food Safety Partner of the World Food Championships", said Martin Watts, CEO of Ozark River Portable Sinks®. "Many restaurants, caterers, food/beverage server businesses, civic organizations and schools require hand washing stations and cannot afford them. We want to be a part of their success. We believe clean hands lead to healthier people and businesses, and everyone deserves that."
Five finalists will win their very own Ozark River Portable Sink® handwashing station for their business or civic organization. The finalists will be announced at the 2017 World Food Championships.
All nominations must be received by October 15, 2017, to be eligible. Visit the nomination site here for eligibility requirements.
To stay connected to Food Sport news and the Food Champs who excel in the annual event, follow World Food Championships on Twitter (@WorldFoodChamp), and Facebook or Instagram (@WorldFoodChampionships).
About Ozark River
Ozark River Portable Sinks® (www.Ozarkriver.com) is the premier manufacture of NSF compliant hot water sinks. Its attention to quality has made them a leader in both innovation and service. All of their sinks feature instant hot water technology and convenient quick-connect tanks, giving customers the benefits of hot water without the expense of plumbing. 100% of the indoor and outdoor sinks are manufactured in its 40,000 sq. ft. facility located in Murfreesboro, TN.
About the World Food Championships
The World Food Championships (www.WorldFoodChampionships.com) features 500 culinary champions seeking food fame and fortune. The sixth annual event, scheduled for Nov. 8-14, 2017 at The Wharf in Orange Beach, Alabama, will conduct 10 category championships before culminating in a high-stakes Final Table showdown for hundreds of thousands of dollars in cash and prizes. For all WFC updates, follow World Food Championships on Twitter (@WorldFoodChamp), and Facebook and Instagram (@WorldFoodChampionships).
« Back to News