WOLVERINE STROLLS INTO THE ULTIMATE FOOD FIGHT
Share:
Posted Aug 29, 2017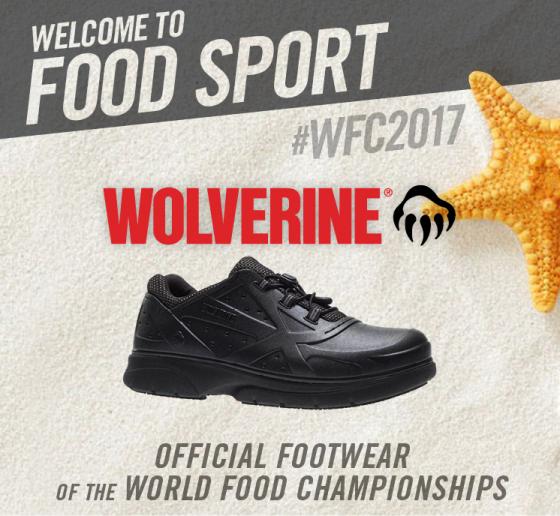 ORANGE BEACH, Ala. -- (August 30, 2017) -- The World Food Championships announced today that Wolverine, a leader in work and casual footwear, is stepping right into Food Sport as the Official Footwear of the 2017 World Food Championships, scheduled for November 8-14, 2017 in Orange Beach, Alabama.
A Michigan-based innovator in the footwear industry, Wolverine is now offering service footwear for both men and women. The new Wolverine service line provides all the comfort and performance that culinary professionals need.
"Through consumer and industry research, we've designed service shoes that excel in the demanding environments chefs encounter every day," said Yahn Lebo, Wolverine product line director. "The Serve has the highest level of slip resistance, is incredibly easy to clean, and provides the ideal amount of cushion and support for those who spend entire days on their feet."

The injected material used for the upper of the Wolverine Serve shoes can be easily wiped or rinsed, and is water resistant to keep feet dry in all types of working environments. The shoes feature an EVA midsole for cushion and a slip-resistant rubber outsole for reliable traction on slick surfaces. The Serve also has a quick-tighten, bungee-lace system for a secure fit and a removable memory foam insole to provide support and cushion.
"Wolverine is well known for comfort, durability and innovation, all aspects that are important to chefs and cooks in the Food Sport industry," commented Mike McCloud, President & CEO of the World Food Championships. "We are delighted that they are joining WFC to support the hundreds of competitors who take their jobs and culinary passion to the next level."
As part of the agreement with WFC, Wolverine's new chef footwear will be available and on display at WFC, where company representatives will demonstrate their products' superior qualities and features.
To stay connected to Food Sport news and the Food Champs who excel in the annual event, follow World Food Championships on Twitter (@WorldFoodChamp), and Facebook or Instagram (@WorldFoodChampionships).
About Wolverine
Since 1883, Wolverine has taken pride in crafting durable boots with unrivaled craftsmanship and the highest-quality materials. With a dedication to innovation, Wolverine provides dependable comfort and style to hardworking men and women all over the world. For those who believe in hard work and uncompromising commitment, Wolverine offers the footwear, apparel and accessories to get the job done. For more information visit www.wolverine.com. Wolverine is a division of Wolverine World Wide, Inc.
About the World Food Championships
The World Food Championships (www.WorldFoodChampionships.com) features 500 culinary champions seeking food fame and fortune. The sixth annual event, scheduled for Nov. 8-14, 2017 at The Wharf in Orange Beach, Alabama, will conduct 10 category championships before culminating in a high-stakes Final Table showdown for hundreds of thousands of dollars in cash and prizes. For all WFC updates, follow World Food Championships on Twitter (@WorldFoodChamp), and Facebook and Instagram (@WorldFoodChampionships).
« Back to News