Vacuvita Joins the Ultimate Food Fight
Share:
Posted Aug 17, 2017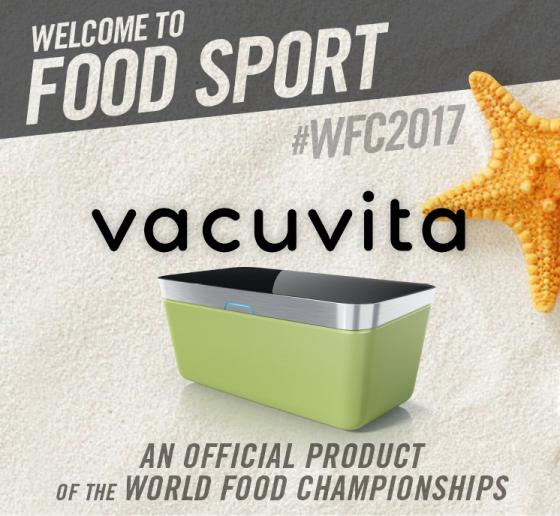 ORANGE BEACH, Ala. -- (August 17, 2017) -- WFC announced today that Vacuvita has joined Food Sport as the Official Food Storage Partner of the 2017 World Food Championships.
As part of the agreement, this Netherlands-based company will be providing WFC's 10 category champions with a complete set of award-winning, fully-automated and sustainable food storage Kitchen systems that keep food fresh for up to 5 times longer. The systems prevent freezer burn on meats, dried out vegetables and soggy salads.
"These are state-of-the-art storage systems and will make a wonderful addition to any Food Champ's cooking collection," commented Mike McCloud, President and CEO of WFC.

Vacuvita's food storage Kitchen systems are built with high-end, BPA-free materials with the goal of achieving a more sustainable footprint and preventing food waste. They are engineered to keep food safe from oxygen, moisture and other factors that negatively affect its shelf life.
The lid of its popular product, Home Base, opens when the sensor on the front is touched. After closing the cover again, the system creates a vacuum that keeps food fresh. Because the system is easy to handle, it is easy to store and features modern design elements and colors to complement any kitchen.
Vacuvita is part of an EU research project taking action against food waste, along with 25 other partners from 12 European countries and China.
The program aims to develop strategic agreements to reduce food waste with governments, businesses and local stakeholders; formulate EU policy recommendations and design and develop technological innovations to improve valorisation of food waste.
To stay connected to Food Sport news and the Food Champs who excel in the annual event, follow World Food Championships on Twitter (@WorldFoodChamp), and Facebook or Instagram (@WorldFoodChampionships).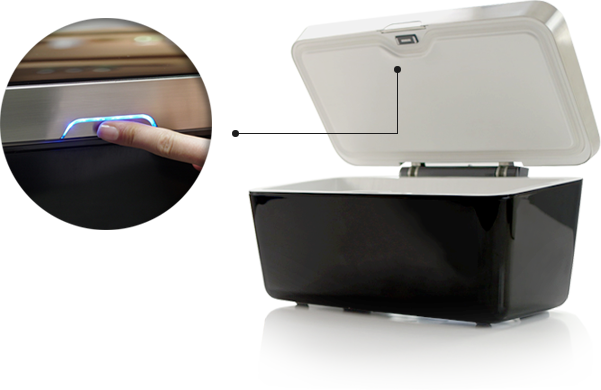 About Vacuvita
Vacuvita is an International Company with headquarters in The Hague (The Netherlands) and production facilities on various locations worldwide. It was founded in 2013 and soon became one of the most successful companies built on crowdfunding in The Netherlands. Vacuvita's mission is to give everyone the opportunity to enjoy fresh food for a longer period of time. In order to achieve this, the systems are accompanied by modern-designed containers and bags. This patented innovation will complete the kitchen of modern people that love fresh food and live a sustainable life.
About the World Food Championships
The World Food Championships (www.WorldFoodChampionships.com) features hundreds of culinary champions seeking food fame and fortune. The sixth annual event, scheduled for Nov. 8-14, 2017 at The Wharf in Orange Beach, Alabama, features 10 categories of competition before culminating in a high-stakes Final Table showdown for hundreds of thousands of dollars in cash and prizes. For all WFC updates, follow World Food Championships on Twitter (@WorldFoodChamp), and Facebook and Instagram (@WorldFoodChampionships).
« Back to News