WFC Ambassadors Prepare for Orange Beach
Share:
Posted Aug 14, 2017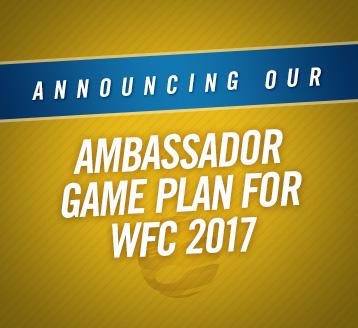 WFC announced today how its 2017 Ambassadors will be using their talents and expertise to make the 6th Annual event in Orange Beach, Alabama, better than ever.

"We have an incredible and passionate group of Ambassadors this year," commented Mike McCloud, President/CEO of WFC. "Each one of them will be helping us improve key aspects of the tournament as we continue building out the biggest and most influential platform in Food Sport."

From judging oversight to VIP treatment, each WFC Ambassador will be working with WFC staff and volunteers to bring unparalleled attention and quality assurance to the table. Each has competed in the WFC before, giving them a unique understanding and perspective on how the entire event works.

Here's a quick overview of where each WFC Ambassador will be seen in action:

Darci (and Bryon) Bos — Turn-Ins
Suzanne Clark — Showcase Stage & Media Summit
Eric Harland — Judging Room
Chad Combs — Special Events
John Corey — Cheferees
Chris Sherrill — Sysco VIP Lounge
Jodi Taffel — Special Events

There will be many other Food Champs assisting the WFC Ambassadors in various ways, in addition to more than 400 volunteers from the local community who will be chipping in to help. Through the efforts of volunteers and staff in 2016, WFC was able to donate more than 12,000 pounds of food to local food banks and create a $3 million economic impact on the local community.

If you or someone you know would like to volunteer time and help make WFC a success in 2017, join the crew by clicking here.

« Back to News