Lipton Iced Tea Makes Food Sport Sweeter Than Ever
Share:
Posted Jul 31, 2017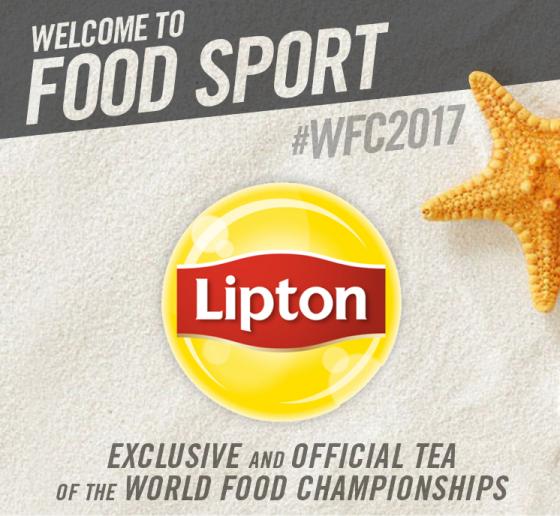 ORANGE BEACH, Ala. -- (July 31, 2017) -- WFC announced today that one of its key ingredients in this year's epic food fight will include Lipton Iced Teas, which will be featured in the infusion round of the event's Bacon championship.

The key integration is the result of an expanded partnership between WFC and Buffalo Rock Company, an independent Pepsi bottler based in Birmingham, Alabama.
For the first time in the event's history, Lipton will become the Exclusive and Official Iced Tea of WFC. The three flavors that Food Champs will be able to experiment with include Lipton Peach Iced Tea, Lipton Green Tea Citrus Iced Tea and Mango Iced Tea.

In addition to the tournament element, Lipton will be helping WFC bring more attention to Food Champ achievements and action at the event as it features "Lipton Live" segments throughout the five days of competition, allowing foodies at home to get daily updates on the milestone moments of the world's largest food tournament.

"This is truly a sweet moment for WFC," commented Mike McCloud, President and CEO of WFC. "Lipton is an iconic and much-loved brand, so we are thrilled that they will be a key partner in this year's tournament of champions. Their support will allow us to shine a whole new light on Food Sport and the many culinary champions who deserve recognition as they achieve their dreams."
Buffalo Rock, which splashed onto the Food Sport stage last year, was instrumental in connecting Lipton Iced Tea with WFC. With over 111 years of experience in the beverage industry, Buffalo Rock has been recognized throughout the years as an innovative, award-winning bottler, including the Donald M. Kendall Bottler of the Year Award (the highest honor bestowed upon Pepsi Bottlers) and Beverage Industry's Bottler of the year (the highest recognition possible in the industry). Click here to learn more about which products this Alabama-based company, Buffalo Rock, manufactures.
To stay connected to Food Sport news and the Food Champs who excel in the annual event, follow World Food Championships on Twitter (@WorldFoodChamp), and Facebook or Instagram (@WorldFoodChampionships).
About Buffalo Rock Company
Buffalo Rock is one of the largest single-family privately owned Pepsi-Cola bottlers. Today it operates 14 distribution centers in Alabama, Florida and Georgia, servicing a population of more than 6.5 million. It manufactures and sells almost a billion containers of product annually, and 85% of sales are manufactured in Birmingham, AL.
The story of Buffalo Rock spans over 100 years and four generations of the Lee family. The Lee family started the Buffalo Rock Company in 1901 and it has been an iconic part of the beverage industry ever since. James C. Lee, III serves as Chairman and CEO and is a 4th generation Lee family member.
The mission of the Buffalo Rock Company is to be the premier provider of beverages and food products. The beverage company has 10 divisions inclusive of 2,100 employee-partners who are committed to this mission.
About the World Food Championships

The World Food Championships (www.WorldFoodChampionships.com) features hundreds of culinary champions seeking food fame and fortune. The sixth annual event, scheduled for Nov. 8-14, 2017 at The Wharf in Orange Beach, Alabama, features 10 categories of competition before culminating in a high-stakes Final Table showdown for hundreds of thousands of dollars in cash and prizes. For all WFC updates, follow World Food Championships on Twitter (@WorldFoodChamp), and Facebook and Instagram (@WorldFoodChampionships).
« Back to News