WFC Adds "Grate" Sponsor to World Steak Championship
Share:
Posted Jul 27, 2017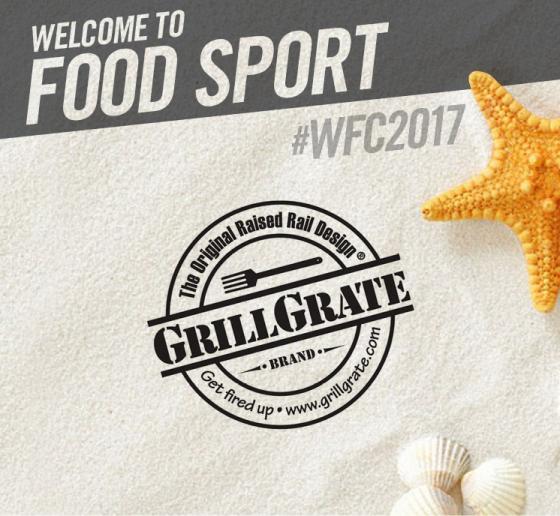 ORANGE BEACH, Ala. (July 27, 2017) -- WFC announced today that it's adding a little more sizzle to the World Steak Championship this year, thanks to a new sponsorship with GrillGrate LLC.
As the latest addition to WFC's Food Sport partners, GrillGrate will be making a set of its patented grates available to every steak contestant in the championship. GrillGrates are a favorite accessory of steak competitors throughout the country, as they help distribute and elevate heat for searing, and keep juices sizzling with the food for added flavor.
"With the ability to temp anywhere from 100ºF to 350ºF hotter than traditional grills, we have seen firsthand how steak contestants have become a big fan of our product," commented Brad Barrett, owner and founder of the Georgia-based company. "We look forward to working with WFC to help competitors from around the world see the benefits of our technology in the biggest challenge of their Food Sport careers."
GrillGrates are designed to sit either on top of existing grill surfaces or replace them entirely. The hard anodized aluminum surface never rusts, eliminates flare ups and evens out heat, allowing more flavor to be contained in the meats.
"We are excited to see how the Grill Grates work in our environment," commented Mike McCloud, President and CEO of WFC. "Adding this incredible accessory to the world-class Bull Grills that we already use, should provide our steak contestants every imaginable approach to making steak the ultimate winner again at our Final Table."
McCloud was referring to the fact that last year's WFC Champion, Kari Luke, came out of the steak category using GrillGates. It was the first time steak was featured at WFC, and it was obviously a big hit. But in its five-year history, WFC has yet to see a category repeat as the ultimate Final Table winner.
To find out which of the event's ten categories take home the $100,000 prize purse in 2017, stay connected to Food Sport news by following World Food Championships on Twitter (@WorldFoodChamp), and Facebook or Instagram (@WorldFoodChampionships).
About Grill Grates
Grill Grate LLC was founded in 2007 by Brad Barrett of Cartersville, GA. Frustrated by burning, under cooking, over cooking and general stress on a grill, he recognized an opportunity. The traditional cooking grate has never been a point of innovation. Its job was just to hold food and not rust. But now thanks to Grill Grates — which feature a patented, raised-rail design over a bottom with holes in it — grillers of all skill levels can control their heat distribution and grilling surface better than ever.
About the World Food Championships
The World Food Championships (www.WorldFoodChampionships.com) features hundreds of culinary champions seeking food fame and fortune. The sixth annual event, scheduled for Nov. 8-14, 2017 at The Wharf in Orange Beach, Alabama, features 10 categories of competition before culminating in a high-stakes Final Table showdown for hundreds of thousands of dollars in cash and prizes. For all WFC updates, follow World Food Championships on Twitter (@WorldFoodChamp), and Facebook and Instagram (@WorldFoodChampionships).
« Back to News