World Food Championships chosen as a 'Top 20 Event' by STS
Share:
Posted Jul 25, 2017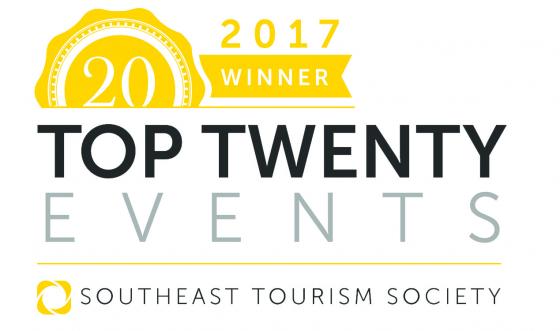 ATLANTA, GA. (July 25, 2017) -- The Southeast Tourism Society has named the World Food Championships one of the STS Top 20 Events in the Southeast for 2017.
This year's World Food Championships will occur again in Orange Beach, Alabama from November 8 to 14. The award was based on the success of WFC 2016, which was held at The Wharf in Alabama for the first time last year.
Travel industry experts select and highlight 20 events per month, and STS publicizes them throughout the United States. The complete list is published on two websites: Southeast Tourism Society and Travel Media Press Room.

The World Food Championships is the largest competition in Food Sport, where grand champions of previous events convene for a chance at winning the ultimate food crown and a share of hundreds of thousands of dollars in prize money. The World Food Championships is also the springboard for many up and coming culinary stars and home cooks as they seek TV fame through many well-known food shows on cable and prime-time TV.
"We are honored and excited about receiving this recognition," commented Mike McCloud, President and CEO of WFC. "Every year, we try to make WFC better and push Food Sport to the next level. By doing so, we believe the true beneficiaries are the incredible Food Champs that get to share their passion and culinary skills on a global scale. So getting recognition for WFC is really about getting accolades for them. And it simply wouldn't be possible without our incredible staff, dozens of partners and hundreds of volunteers. Their dedication and endless hours of help is truly world-class."
Now heading into its 6th season, the 5th Annual World Food Championships boasted the largest Food Sport tournament in history with well over 1200 contestants on 419 official teams. They came from 48 American states and 14 countries to compete, while more than 20,000 foodies watched and enjoyed the heat of the battle unfold in 10 official categories.
"The Southeast Tourism Society's Top 20 Festival and Event list is an excellent guide for the Southeast's visitors, residents and travel writers. The events selected represent the best, and often most unique, activities in our region," said Bill Hardman, president and CEO of the Southeast Tourism Society.

Events considered for the STS Top 20 recognition must be at least three years old and have attendance of at least 1,000. Founded in 1983 and headquartered in Atlanta, Ga., STS is a non-profit organization dedicated to promoting tourism to and within 12 states – Alabama, Arkansas, Florida, Georgia, Kentucky, Louisiana, Mississippi, North Carolina, South Carolina, Tennessee, Virginia and West Virginia.

About WFC

The World Food Championships (www.WorldFoodChampionships.com) features hundreds of culinary champions seeking food fame and fortune. The sixth annual event, scheduled for Nov. 8-14, 2017 at The Wharf in Orange Beach, Alabama, features 10 categories of competition before culminating in a high-stakes Final Table showdown for hundreds of thousands of dollars in cash and prizes. For all WFC updates, follow World Food Championships on Twitter (@WorldFoodChamp), and Facebook and Instagram (@WorldFoodChampionships).
« Back to News