WFC Sponsors & Champs Lead To New Products
Share:
Posted Jul 12, 2017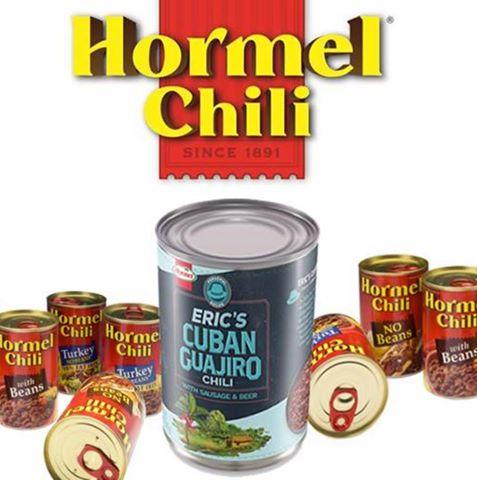 From Food Sport to Food Shows to Food Endorsements — and now Custom Food Brands, the World Food Championships and its partners are creating new opportunities for cooks and chefs in ways never before possible.
Just ask WFC competitor Eric Harland, a Kansas City "home cook" who just landed a national licensing deal with Hormel thanks to a WFC Food Champ Recipe Contest in 2016.
Branded as "Eric's Cuban Guajiro Chili," the Food Champ's signature style of Cuban chili was infused with Hormel's traditional formula and will now be featured in grocery stores nationwide.
"This is a dream come true," commented Harland, a three-year competitor at WFC. "Following my passion for cooking is actually turning a hobby into a real career of opportunity, and I've never been more thankful or excited."
Turns out that numerous "home cooks" and professional chefs are finding new avenues of opportunity thanks to the WFC network, which was created in 2012 to identify and celebrate chefs, home cooks and pro cooking teams through performance-based competitions.
"This is an exciting moment for WFC and Food Sport," commented Mike McCloud, President and CEO of WFC. "Eric's example is one of many that we have seen blossom through the World Food Championships platform. It's truly remarkable to know that WFC is giving aspiring cooks a chance to attain their dreams through dedication, passion and performance."
WFC hosts about 10 online recipe contests annually, including the Taste of America Challenge, which rewards golden tickets to cooks and chefs in all 50 states as they create new recipes with traditional food products. Once qualified, Food Champs travel to Orange Beach, Alabama for the "main event," an annual series of category championships that features more than $300,000 in cash and prizes over the course of a week.
Last year, more than 400 teams competed at WFC, representing 48 states, 14 countries and almost 100 food brands. The event is the largest in Food Sport and has been featured on major TV networks like ABC, A&E, Discovery and Food Network.
To learn more about the 2017 event,
follow World Food Championships on Twitter (@WorldFoodChamp), Facebook or Instagram (@WorldFoodChampionships).
« Back to News