Challenge Butter and Cream Cheese Return As Official Ingredients of the 2017 World Food Championships
Share:
Posted Jun 27, 2017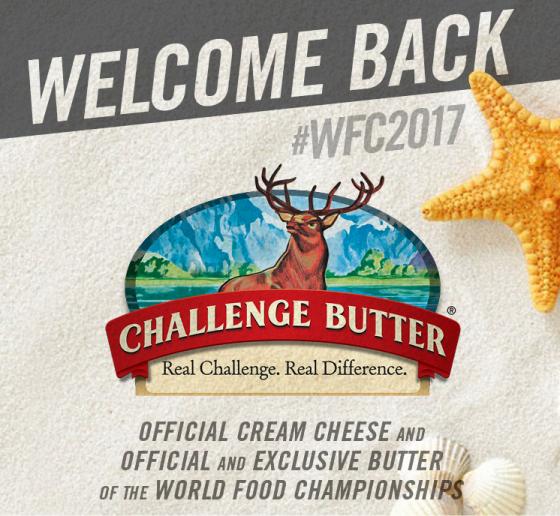 ORANGE BEACH, Ala. (June 27, 2016) – The World Food Championships announced today the return of Challenge Butter as its "Exclusive and Official Butter", and Challenge Cream Cheese as its "Official Cream Cheese" and the infused ingredient in the Top 10 World Chef Challenge.
As official ingredients of the World Food Championship, Challenge Butter and Cream Cheese will be provided to competitors who travel from around the globe to battle in the world's largest food sport event.
"As one of our inaugural partners, we are delighted to see Challenge Dairy continue its support of Food Champs and the World Food Championships," said Mike McCloud, CEO of WFC. "This leading supermarket brand cares strongly about the quality of its products and it shows every year in our award-winning dishes."

With a heritage of producing high quality products for more than 100 years, Challenge is an award-winning brand with recognition from the World Dairy Awards, Saveur Magazine and San Francisco Chronicle. Its portfolio features nearly 20 products including a premium higher-butterfat European style butter, whipped and spreadable butters and six cream cheese offerings.
"Challenge is a stickler for quality, being the first brand to ban growth hormones and ensuring our products are ready for the dairy case within 48 hours of milking," said Tim Anderson, SVP of Retail and Food Service for Challenge Dairy Products, Inc. "WFC culinary champions understand the importance of quality ingredients and we couldn't be happier to provide them with the highest standards of butter and cream cheese to make their recipes shine."

A cooperative of 435 family-owned dairies, Challenge Butter and Cream Cheese products are made from 100% real cream and are free of growth hormones, artificial preservatives, dyes and fillers.
About Challenge Dairy Products, Inc.
Challenge Dairy Products, Inc. is a wholly owned subsidiary of California Dairies Inc., the second largest dairy cooperative in the United States. Available nationwide, Challenge Butter and Cream Cheese products span 18 varieties including salted and unsalted versions of regular Challenge Butter, whipped, spreadable and European style. It also offers a line of spreadable butters blended with olive and canola oils as in addition to Cream Cheese in regular, whipped, spreadable and flavored varieties. Challenge has not only been a pioneer in the quality in butter products, but is also responsible for many industry firsts including invention of the first aluminum butter churn, lab sampling of butter and shipping butter in paper rather than wooden crates. For more, visit Challenge on Facebook at www.Facebook.com/ChallengeButter or at www.ChallengeDairy.com.

About WFC
The World Food Championships (www.WorldFoodChampionships.com) features hundreds of culinary champions seeking food fame and fortune. The sixth annual event, scheduled for Nov. 8-14, 2017 at The Wharf in Orange Beach, Alabama, features 10 categories of competition before culminating in a high-stakes Final Table showdown for hundreds of thousands of dollars in cash and prizes. For all WFC updates, follow World Food Championships on Twitter (@WorldFoodChamp), and Facebook and Instagram (@WorldFoodChampionships).
« Back to News