WFC Announces Local Produce Partner for 2017 Championship
Share:
Posted Jun 15, 2017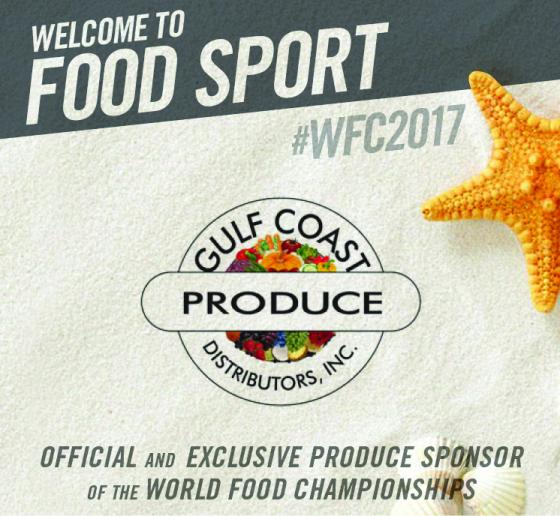 ORANGE BEACH, Ala. (June 15, 2017) -- WFC announced today that competitors at the 2017 Championship will have a new and exciting option for produce sourcing this year, thanks to a new partnership with Gulf Coast Produce Distributors.
A familiar name throughout the Orange Beach area, Gulf Coast Produce will be on site at WFC with a wide variety of fresh produce to help all contestants find a competitive edge in the plating and preparation of their award-winning dishes.
Recognized as one of the largest female-owned businesses in Mississippi, the company will offer quality fruits and vegetables to competitors through the World Food Championships Produce Store. Champs will also have the ability to order specialty items and produce prior to the tournament, including items like baby fruits and vegetables to microgreens and edible flowers.
"Food Champs like knowing the source of the food they are working with," commented Mike McCloud, CEO of World Food Championships. "So we are excited to be able to provide competitors access to one of the largest, healthiest local farm networks in the Deep South coastal region, all backed by a company that knows the region better than anyone."
"We are able to bring fresh produce to customers at the peak of flavor by working closely with farmers first hand through our national alliance. This affords the best quality without compromise" commented Christi and Mike Alise, President and Vice President of Gulf Coast Produce. "By watching the tournament closely last year, we got to see firsthand how focused and fresh-minded Food Champs are when it comes to their dishes. We look forward to helping them compete at their very best in 2017. Having an on-site Championship Produce Store is going to help competitors find all of their produce needs"
To find out which local products will be harvested during the championships, click here.
To keep up with all WFC news, follow World Food Championships on Twitter (@WorldFoodChamp), and Facebook or Instagram (@WorldFoodChampionships).
About Gulf Coast Produce:
With almost 40 years of produce experience in the gulf coast community, Gulf Coast Produce is the leader for the freshest fruits and vegetables. With a team of professional and friendly staff members, Gulf Coast Produce strives to provide high-quality products efficiently and effectively every day.
About World Food Championships:
The World Food Championships (www.WorldFoodChampionships.com) features hundreds of culinary champions seeking food fame and fortune. The sixth annual event, scheduled for Nov. 8-14, 2017 at The Wharf in Orange Beach, Alabama, features 10 categories of competition before culminating in a high-stakes Final Table showdown for hundreds of thousands of dollars in cash and prizes. Follow World Food Championships on Twitter (@WorldFoodChamp), and Facebook and Instagram (@WorldFoodChampionships).
« Back to News